Washington State Revenue Forecast Revised Upward Despite Economic Risks
Posted by Joe Adamack on September 27, 2023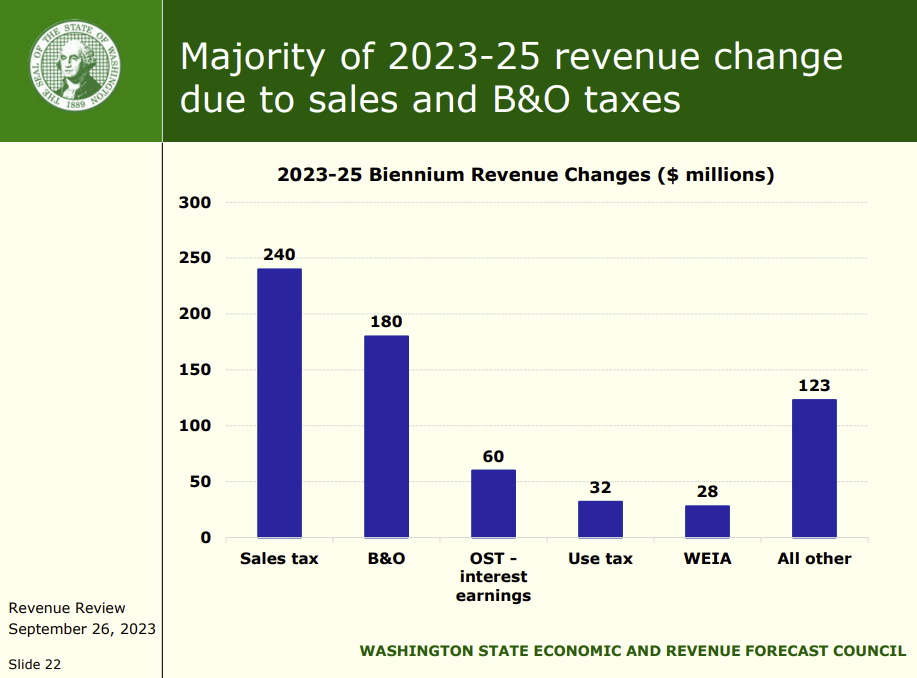 A few weeks ago, we shared a number of potential areas for concern for state budget writers in the latest economic review. Based on that presentation from the state's chief economist, many expected this week's official forecast to see projected state tax revenues flat or even reduced. However, in Wednesday's meeting of the Washington Economic and Revenue Forecast Council, we saw just the opposite with new projections of the state taking in $1.1 billion more in tax revenue than previously projected over the next four years.
National concerns and risks include higher oil prices, reduced job growth, decreasing consumer confidence, slowing real estate activity, high interest rates, and global geo-political conflicts impacting import/exports key to Washington's state economy, not to mention a potential federal government shutdown.
However, at the state-specific level, Washington saw employment levels double previous growth projections, larger than anticipated increases in personal income, and a leveling off of Puget Sound area home price declines.
With state-level data departing from key national indicators that show up in the state's main tax revenue sources including sales tax, real estate transactions, and business taxes. Ultimately that translates to $670 million in higher than previously anticipated revenue in the current two-year budget cycle (2023-25) and more than $400 million more than expected in the 2025-27 budget period. For context, the state's two-year budget currently spends ~$70 billion.
Your GoWest team tracks this information closely for a number of reasons but most importantly these projections dictate the overall work on the state budget, which is the top priority of lawmakers in each legislative session and impacts our advocacy priorities and how we approach the policy agenda.
Click here for the full forecast. 
Posted in Advocacy on the Move, Washington Advocacy.