OnPoint Community Credit Union Appoints Chief Commercial Officer
September 26, 2023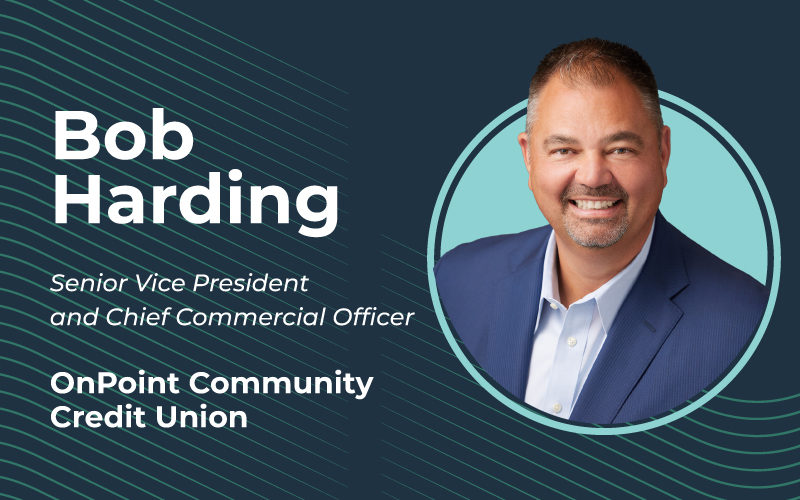 OnPoint Community Credit Union, based in Portland, Oregon, has hired banking and commercial strategy expert Bob Harding as Senior Vice President and Chief Commercial Officer. He joins the executive team of Oregon's largest credit union, which has more than 522,000 members and $8.7 billion in assets.     
As Chief Commercial Officer, Harding leads OnPoint's commercial lending team, advancing growth in the commercial market while deepening banking relationships with businesses across the region. Harding previously served as Regional Managing Director for First Republic Bank and has held senior leadership positions at Pacific West Bank, Columbia Bank, and Pacific Continental Bank.  
"We are excited to welcome Bob to the OnPoint team. He brings more than 20 years of banking experience and an impressive commitment to improving his community through public service," said OnPoint President and Chief Executive Officer Rob Stuart. "He's a proven strategist, driving growth while developing initiatives to achieve goals. Bob will continue our mission of supporting the financial well-being of our members and the communities we serve." 
Harding's 20-plus years of experience include private and nonprofit banking, residential and multi-family lending, investment management, and financial planning. Harding will guide OnPoint's strategy in his new role, driving sales, marketing, and product development through relationship-based leadership. 
"I'm honored to join the OnPoint team, a financial organization that values integrity and commitment to community," said Harding. "Together, we will continue to offer products and services that enhance OnPoint's banking connections with local businesses and non-profits." 
Harding serves as board chair for the Children's Institute. He is passionate about early childhood educational programs that ensure all children have equal opportunity and access to programs that support emotional well-being. He is also a board member for Educational Opportunities for Children and Families (ECOF).  
Posted in Oregon, Regional Member News.