Washington budget leaders receive latest economic news from chief economist
Posted by Joe Adamack on September 15, 2023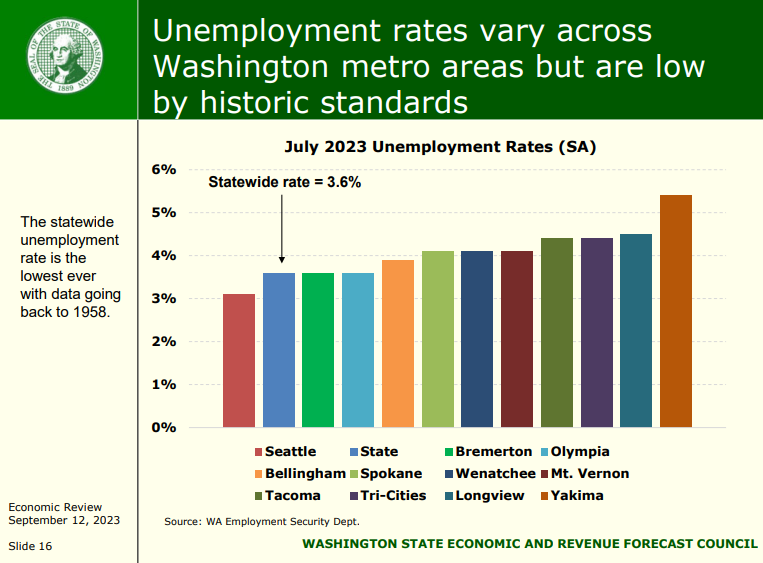 Key Washington lawmakers received an important update this week from the state's chief economist as the state's Economic and Revenue Forecast Council met for its third quarter economic review. This meeting comes ahead of the state's third quarter revenue forecast due out later this month, which provides updated projections for state tax revenue that is used in developing the budget update lawmakers will do during the 2024 legislative session.
Key items flagged by Dr. Stephen Lerch, the state's chief economist, include:
Job growth in Washington state exceeded the previous forecast, which brings the state's unemployment rate to a historic all-time low of 3.6%. However, employment levels still vary significantly regionally (see attached chart for regional unemployment).
Housing construction slowed during the second quarter of 2023.
Car and truck sales declined for the last two months.
Home prices in the Seattle area increased for the third straight month following 11 consecutive months of decline.
Puget Sound area inflation outpaced the national average with CPI rising 4.6% year-over-year, well above the 3.1% national index.
Lerch specifically noted risks including the interest-rate environment and concerns in the doubling of commercial real estate lending by US banks over the last decade and increased default risks.
The same lawmakers will receive the official third-quarter revenue forecast on September 26th, which provides data the governor's office uses in preparing a budget proposal that it will submit to the Legislature in near the end of the year.
Posted in Advocacy on the Move, Washington Advocacy.