Gesa Gives Students Meaningful Work Opportunities. Other Credit Unions Can, Too.
September 15, 2023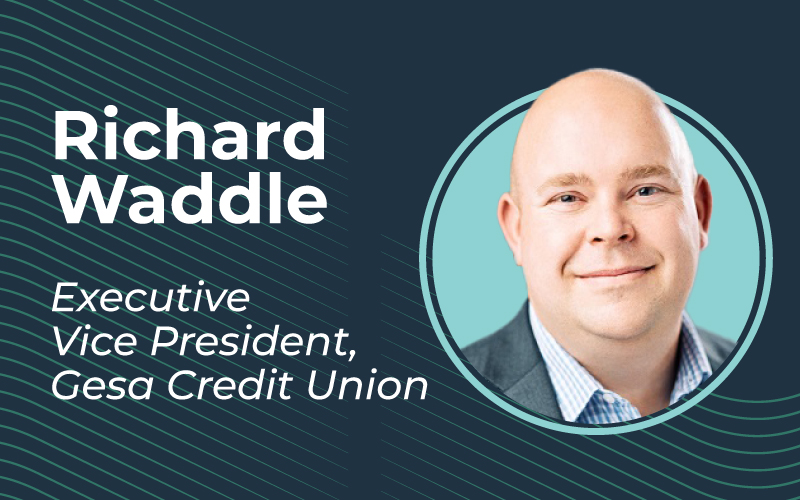 Gesa Credit Union, based in Richland, Washington, took a bold step in 2000 when it launched its credit union program with Richland High School to build a stronger community. The program gives high school students the opportunity to work as paid interns at high school branches.
Gesa hasn't looked back since. In fact, it has established relationships with other high schools in eastern Washington and plans to expand its community-giving presence in the state.
A Real Need In School Districts
According to Richard Waddle, executive vice president at Gesa, too many students at Richland High School knew too little about how money works. Most were unfamiliar with basic money management skills like balancing a checkbook or understanding compound interest.
"We saw a need for financial education, and we responded by creating a cooperative education program where we established a Gesa branch in the high school at Richland," Waddle says. "We initially worked with students who were selected based on their interest in taking a class on accounting."
At the time, Gesa opened a teller station in the school's main lobby for students to conduct simple transactions — such as opening a savings or checking account or making a deposit or withdrawal — during lunchtime. For student workers, the station provided de facto on-the-job training. The credit union intentionally limited the transaction types, and a credit union staff member supervised all activity to ensure compliance with the cooperative's policies and procedures. A schoolteacher advocate for the program also was on hand at all times.
Today, more than two decades later, Gesa has formalized the training program. It also has taken steps to empower students with the knowledge they need to manage not only a career in financial services but also life in general.
Selection Criteria
Today, 12 high schools in eastern Washington school districts participate in Gesa's high school work program. To staff its in-school branches, Gesa advertises for student manager internships only within the schools, steering clear of marketing in its community branches. The student role demands a serious and focused mindset today as well as a commitment to work toward a possible rewarding career down the road; as such, the credit union aims to recruit promising, motivated intern candidates.
"We get plenty of interest from the student body at each school every year," Waddle says. "We make our final selections essentially through the same process we use to hire a regular Gesa branch employee."
The credit union interviews each candidate to evaluate their demeanor, focus, and confidence. It also reviews the academic records of the selected recruits to ensure they exhibit a high level of scholastic achievement. Student assessments conducted by the teacher advocate for the program help Gesa gauge the students' engagement. Their opinion of each candidate weighs heavily in the selection decision as Gesa tries to determine how responsible and accountable the students are.
Gesa's high school work program stems from a strategic goal set by the credit union's board of directors to make a positive impact in the community.
"We treat the expense of this program, which includes the time our staffers take to be on-site at the high schools, as an investment in the future," Waddle says. "Sometimes the credit union benefits from getting a gem of an employee. But if interns move on and carry their experience to another industry or company, we're okay with that because we helped facilitate that transition for a young professional."
Risk Acknowledged. Risk Mitigated.
To alleviate risk, Gesa takes the same precautions with the student interns as it takes with regular branch employees, with some minor differences.
The credit union keeps less cash on hand at the school than at a regular branch.
Dual control requires multiple students to be in the room whenever cash is handled.
Students perform end-of-day cash balancing under the oversight of the teacher advocate.
According to Waddle, such precautions are just as much to make the students feel supported as they are to mitigate financial malfeasance.
"We've had no negative situations so far," the EVP says. "And that's over 23 years of the program's existence."
Recognition And Certification
Career Connect Washington works with schools and employers in the state to provide real-world job experiences to students and workers up to 30 years old. According to the organization's website, "Students and younger workers need combined classroom learning and professional experience to be ready for college AND careers."
Through Career Connect Washington, students who complete at least one internship year through Gesa's high school program earn a special certification that endorses them as ready for an entry-level position within the financial services industry. Such certification can further their career right out of high school or help them find employment while seeking higher education.
"We were the first credit union in the state to introduce a comprehensive financial literacy program that was certified to count as education credits toward meeting the new state requirements," Waddle says. "We helped set the standards for the future Career Connect awards."
In 2022, Gesa's announced its program became the first financial sector program in Washington endorsed as a Career Launch program through Career Connect Washington. The Career Launch program combines meaningful, high-quality, on-the-job experience with classroom learning to ensure Washington students are career and college-ready.
Goals, Lessons, And Advice
Gesa launched its high school program and summer internship to expose students to possible career paths in financial services as well as provide a real-world experience. Additionally, the program has delivered financial literacy education to countless students and exposed them to the pragmatic choices they must make in life.
"Students who've been through the program, sometimes since they were sophomores, tell us we opened up a whole new world of possibilities," Waddle says. "They realized working at a retail store in the local mall or at grocery store or fast-food restaurant was no longer necessary."
It's a great program, but to make it even better, Gesa knew it had to make the program scalable.
"Every time we opened a new branch at a high school, we needed to dedicate our own staff members to be on-site and oversee the operations — from opening to closing," Waddle says. "This forced us to adopt a student manager model. We've learned we can trust the students to take their roles seriously and take care of the money. The students have exceeded our expectations."
A teacher advocate is still always present, but the program now empowers experienced student management interns to lead training and oversee the day-to-day operations of the student-run branch. That why Waddle advises institutions implementing a similar program to empower and trust the students — because they're smart and capable despite their youth — as well as to encourage students to be brand ambassadors for their high school and the credit union.
After going through the financial literacy program, one student suggested Gesa rebrand a series of student financial literacy classes as the "How to Become a Millionaire" program. Gesa endorsed the idea, and the next class attracted thirty-five students.
"There's a lot of smart students out there," Waddle says.
Indeed, so many that the credit union hopes to expand the program farther west to other counties and school districts.
"Once educators understand what we're doing and have accomplished, it's a pretty easy conversation," Waddle says. "Other credit unions are calling us to learn more about the program."
Editor's note: This article appeared originally on CreditUnions.com and is the intellectual property of CALLAHAN & ASSOCIATES. No part may be reproduced, transmitted, distributed, published, or otherwise com­municated without the express written permission of CALLAHAN & ASSOCIATES.
Posted in Financial Education, Top Headlines, Washington.