Wyoming Credit Unions, FHLB Collaborate to Help Nonprofits
September 11, 2023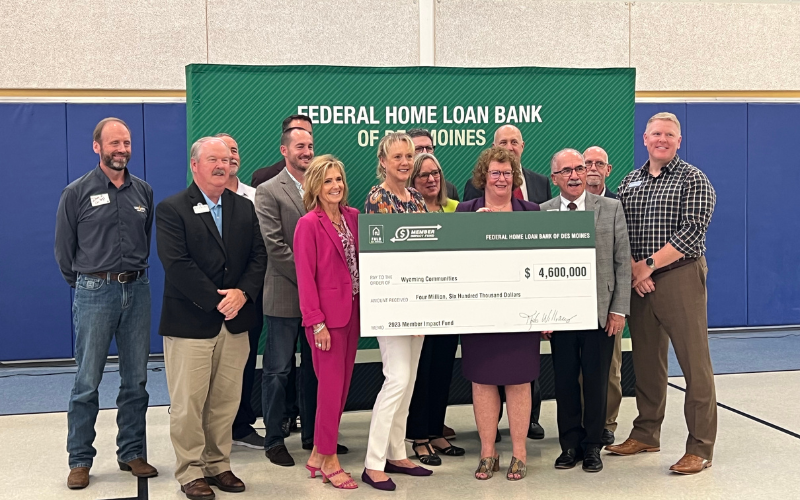 "To build a better world, start in your own community."
That's the philosophy of Western Vista Federal Credit Union's Commercial Lender Mick Finnegan, and, as he puts it, credit unions in general.
And that philosophy is in action in Wyoming, where the Federal Home Loan Bank (FHLB) Des Moines Member Impact Fund recently celebrated a generous, $4.6 million grant to benefit 184 organizations doing good work in their communities.
Credit unions are at the forefront of putting that grant money to work in their communities. Participating credit unions include Cheyenne-based WyHy Federal Credit Union, Laramie-based StagePoint Federal Credit Union, Green River-based Trona Valley Federal Credit Union, Laramie-based UniWyo Credit Union, Cheyenne-based Western Vista FCU, and Cheyenne-based First Education Federal Credit Union.
How They are Helping
Trona Valley Federal Credit Union stretched its $52,000 allocation by providing another $20,000 in matching funds that benefited five organizations – the United Way of Southwest Wyoming, Wyoming 211, an organization that provides health and social services resources to communities, the Wyoming Hunger Initiative founded by Wyoming First Lady Jennie Gordon, the Boys & Girls Club of Sweetwater County, and the Sweetwater One Public School Fund for nontraditional scholarships.
"There is a tremendous need for financial assistance in our Wyoming nonprofits," Western Vista's Finnegan said. "Through this matching program alone, Western Vista was able to provide new technology for the Restore of Habitat for Humanity of Laramie County, books for disadvantaged youth through the First Steps program at the Laramie County Library, and we were able to give Magic City Enterprises a hand with their programs to help people develop and refine new skills in employment, personal interaction, community awareness, social well-being, and community living."
WyHy FCU donated $35,000 to the Food Bank of Wyoming – a contribution that will fund 100,000 meals to people in need.
"This is a shining example of how credit unions, as cooperatives, collaborate to serve the people of Wyoming," said Bobbie Frank, vice president, legislative affairs for Wyoming, GoWest Credit Union Association. "It was an honor to attend the Impact Fund celebration and to see just how quickly and effectively credit unions leveraged the valued partnership with FHLB to help so many organizations."
The GoWest Foundation was also a recipient and will use the funding to support its workforce housing initiative. Member credit unions including P1FCU, Idaho Central Credit Union, STCU, Old West Federal Credit Union, Mountain America Credit Union, CapEd Credit Union, BECU, and StagePoint Federal Credit Union helped donate nearly $196,000 toward affordable housing in Wyoming and Idaho, nearly tripling their original GoWest Foundation donation through FHLB Des Moines' Member Impact Fund. The fund matched almost $3 for every $1 of its members' grant donations.
If your credit union is interested in receiving support to launch new housing solutions in your community, connect with the GoWest Foundation at [email protected].
Posted in Top Headlines, Wyoming.