Financial Beginnings Oregon Receives $50,000 Boost from OnPoint Community Credit Union
August 29, 2023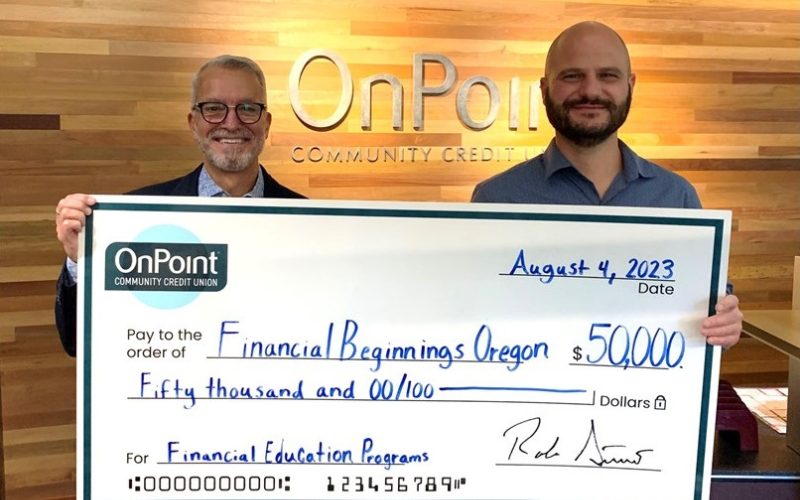 Oregonians will have continued access to financial education thanks to OnPoint Community Credit Union, based in Portland.
The credit union recently donated $50,000 to Financial Beginnings Oregon (FBOR) to help provide financial education programming and resources for people of all ages.
The donation builds on OnPoint's 15-year partnership with FBOR and will be used to fund:
The Financial Empowerment Fellowship, a workforce development program for young adults from historically disenfranchised communities
Additional classroom lessons, curriculum development, workbooks, and other classroom materials
"Access to financial education can drive positive change in a person's life. This investment and our ongoing commitment will help Financial Beginnings Oregon amplify its programming to help more Oregonians achieve financial sustainability," said Amber Kelly, manager of OnPoint's Oregon City branch and longtime Financial Beginnings Oregon volunteer.
15-year partnership increases access to financial education across Oregon
OnPoint has donated more than $350,000 to fund FBOR financial education initiatives including the Pathways Program, a statewide financial literacy program that helps students navigate the financial complexities of pursuing education after high school.
The funding has also supported FBOR's financial education community events, volunteer training, and hands-on classroom lessons in financial literacy.
"Our longstanding partnership with OnPoint has been instrumental in providing thousands of Oregonians with critical financial knowledge," said Alex Manoogian, interim executive director of Financial Beginnings Oregon. "Together with OnPoint, we will continue to break down barriers to financial literacy and equip Oregonians of all ages with the essential skills to shape their financial futures."
Posted in Oregon, Regional Member News.