Columbia Credit Union Hires Lindsey Salvestrin as President and CEO
August 18, 2023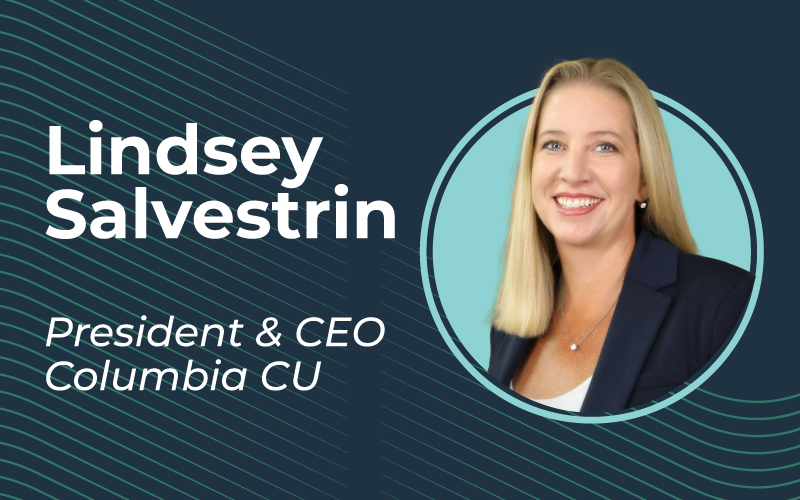 The Columbia Credit Union board of directors recently announced its enthusiastic endorsement of Lindsey Salvestrin as president and CEO of Columbia Credit Union, based in Vancouver, Washington.
Salvestrin, a 20+ year industry veteran of Columbia Credit Union, most recently held the interim title while continuing her role responsibilities as its executive vice president and chief operating officer. In Washington state, out of 17 credit unions with $1 billion+ assets, only five CEO roles (including Salvestrin) are held by women, according to industry executive recruitment expert Jill Nowacki, president and CEO of Humanidei.
Locally recognized for her accomplishments, Salvestrin was a Vancouver Business Journal "Accomplished Under 40" recipient and Clark County Iris Award nominee. She is committed to people, community, and financial wellness. Innovative efforts that lean into addressing issues around financial wellness will be a hallmark of Salvestrin's inspirational leadership. Notable efforts include Columbia Credit Union's Vancouver Housing Authority partnership to increase affordable housing inventory and the credit union's reduction of fees through a revamp aptly named "Overdraft Kindness."
Columbia Credit Union Board Chair Joe Vance said, "Lindsey and her leadership team have the board's full support and confidence as they continue with our progressive, people and community-centric strategic direction."
Posted in Regional Member News, Washington.