$315,000 Granted to Nonprofits Through 2023 Numerica Charitable Fund
August 11, 2023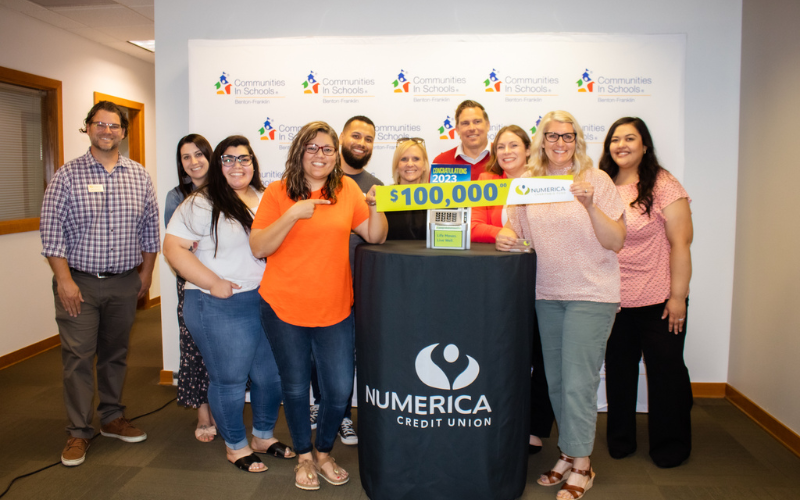 With grants for 19 regional nonprofits, Numerica Credit Union recently distributed more than $315,000 through the 2023 Numerica Charitable Fund.
The annual program partners with organizations that align with the credit union's new philanthropic initiative, Numerica CARES for Kids.
As part of the announcement, the Spokane Valley, Washington-based Numerica also pledged $100,000 each to four nonprofits through multi-year grants.
Family Promise, Spokane
Safe Passage, North Idaho
Women's Resource Center, Wenatchee
Communities in Schools of Benton-Franklin, Tri-Cities
These four-year commitments reflect special partnerships aimed at building brighter futures for local youth.
"Numerica CARES for Kids means focusing resources on organizations that uplift children and families," said Carla Cicero, Numerica president and CEO. "When times are tough, we've seen how these 19 nonprofits wrap themselves around families in need. Through Numerica's Charitable Fund we are proud to support organizations who are making an impact in the lives of others."
Numerica team members surprised the nonprofits this summer with customized mini ATMs revealing the amount the organization was granted. The funds will be used to provide housing, meals, education, and more.
"Year after year, Numerica goes above and beyond to not just give financially, but to truly partner with Family Promise to end the cycle of homelessness for families," said Emma Hughes, Family Promise outreach and recruitment director. "This year's gift of $25,000 will change the lives of children staying in our emergency shelter by providing fun, kid-centric summer programs. We couldn't be more thankful!"
The Numerica Charitable Fund is funded by Numerica members through Skip a Pay, a voluntary program available on some loans. Members are allowed to bypass a monthly loan payment once every six months for a $30 fee, which is contributed to the fund to support community nonprofits.
The 10 Spokane Numerica Charitable Fund recipients include:
Family Promise of Spokane
Vanessa Behan
Second Harvest Inland Northwest
Community-Minded Enterprises
Big Table
YMCA of the Inland Northwest
Volunteers of America of Eastern Washington & Northern Idaho
Women & Children's Free Restaurant & Community Kitchen
Spokane Valley Partners
Joya Child & Family Development
The three North Idaho Numerica Charitable Fund recipients include:
Safe Passage
Children's Village
Family Promise of North Idaho, INC.
The three Tri-Cities Numerica Charitable Fund recipients include:
Communities in Schools Benton & Franklin Counties
Mirror Ministries
B5
The three Wenatchee Numerica Charitable Fund recipients include:
Women's Resource Center
Wenatchee Valley College Foundation
Serve Wenatchee Valley
Posted in Regional Member News, Washington.