Western CUNA Management School Honors 2023 'Upsilon' Graduates
August 8, 2023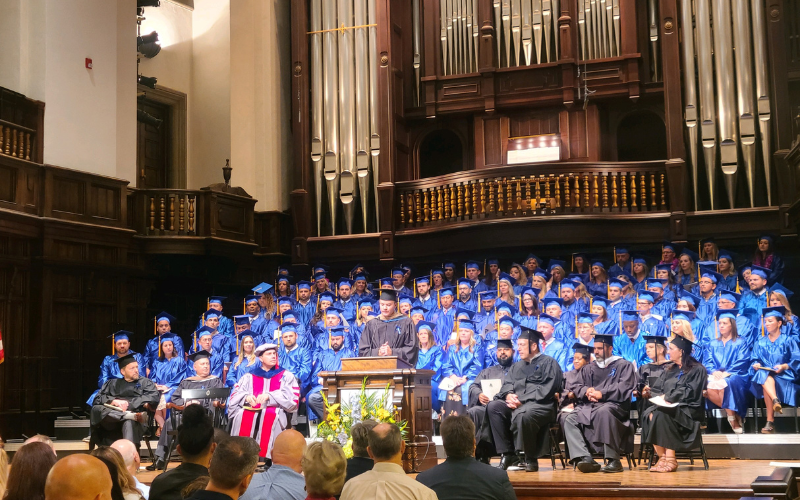 Western CUNA Management School recently honored 82 graduates at a ceremony at Pomona College in Claremont, California.
The program noted class members graduated after examinations, two projects, three innovation challenges, two live and one virtual session. The graduation was held at Pomona College in Claremont, California.
Among those honored was Ben Metzger, vice president of strategy for Canvas Credit Union, who earned "Highest Honors" graduate and was the recipient of the RickCraig Prize for Excellence, which recognizes outstanding work on a project during a student's second year.
Several employees of GoWest member credit unions were acknowledged for their achievements, including:
Ronna Idzenga, director of development at Cutting Edge Credit Union in Oregon who graduated with "high honors,"
David Goldman, CFO of Atlantic City Federal Credit Union in Wyoming,
Cheryl McCarthy, vice president of employee experience at Rivermark Community Credit Union in Oregon,
Chantelle Castle, Cutting Edge Credit Union, graduated with "honors," and
and GoWest's very own Carmen Vigil.
Commencement speaker and President/CEO of GoWest Credit Union Association Troy Stang encouraged the class to accomplish great things on behalf of their members when they return to their credit unions.
"This class is going to be the one that makes the difference in our members' lives," he said.
Congratulations to this year's WCMS graduating class!
Posted in Top Headlines.