Clarity CU Celebrates Juntos Avanzamos Designation and Branch Opening
Posted by Andrew Kobialka on July 25, 2023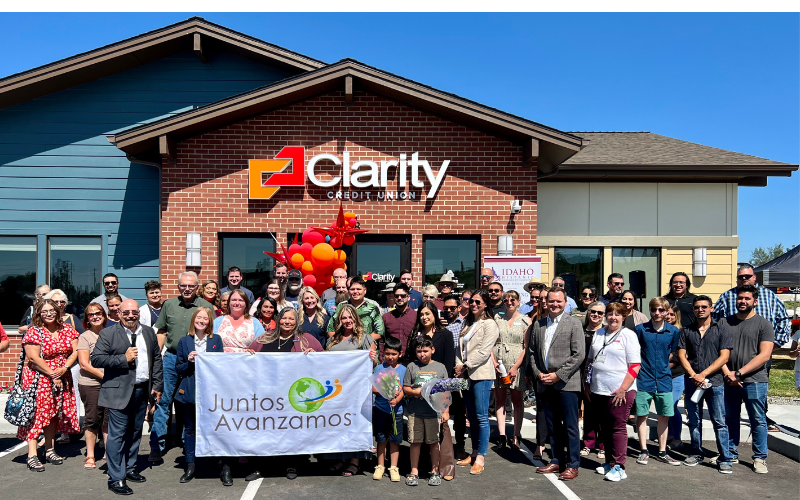 Idaho's Clarity Credit Union had much to celebrate last week — it earned its Juntos Avanzamos designation and opened a new branch in Caldwell.
Juntos Avanzamos is a financially inclusive initiative that was taken on by Inclusiv in collaboration with industry partners like GoWest Credit Union Association to establish a strong network of credit unions that are committed to serving and meeting the needs of the Hispanic community.
"We are proud to open our new and improved Caldwell Branch," said Wendy Edwards, president and CEO of Clarity Credit Union. "With a better drive-through (more lanes) and a community room, we are ready to serve the growing Caldwell community. A big thank you to Clarity members, the City of Caldwell, the Caldwell Chamber, the Hispanic Chamber, Inclusiv, and GoWest, who joined together to help Clarity celebrate the branch as well as our Juntos Avanzamos designation. It was wonderful to have such a vibrant event filled with smiles and sunshine during Clarity's 75th anniversary year!"
Jose DeLeon, director of programs at the Idaho Hispanic Chamber of Commerce, and the Caldwell Chamber of Commerce performed ribbon-cutting ceremonies.
"This incredible building presents the impact Clarity Credit Union is making not only to the Hispanic community but for everyone," said DeLeon.
Clarity received the Juntos Avanazomos designation during the pandemic and was unable to hold the proclamation ceremony, so its team was happy to hold this ceremony during the grand opening of its new Caldwell branch.
Pablo DeFilippi, executive vice president of Inclusiv Network, and Zach Forster, GoWest 's vice president of legislative affairs for Idaho, joined the celebration to perform the proclamation ceremony.
The Juntos Avanzamos designation means Clarity has policies and procedures in place to promote the financial inclusion of the Hispanic community. Clarity is dedicated to serving Spanish-speaking members by providing Spanish-speaking staff in its branches, translated materials at its branches and online, and a commitment to participate in Hispanic events throughout the communities it serves.
The new Caldwell branch introduces more financial services to a community that has an increasing need for it. Keeping the people it serves at the forefront of its mind, this location also houses a 50-seat capacity community room that is open to members and organizations in the community to hold meetings or training.
Help us celebrate and congratulate Clarity on this incredible achievement!
Posted in Community Impact, Idaho, Top Headlines.