Horizon Credit Union Nearly Triples Donation to Support Affordable Housing
July 9, 2023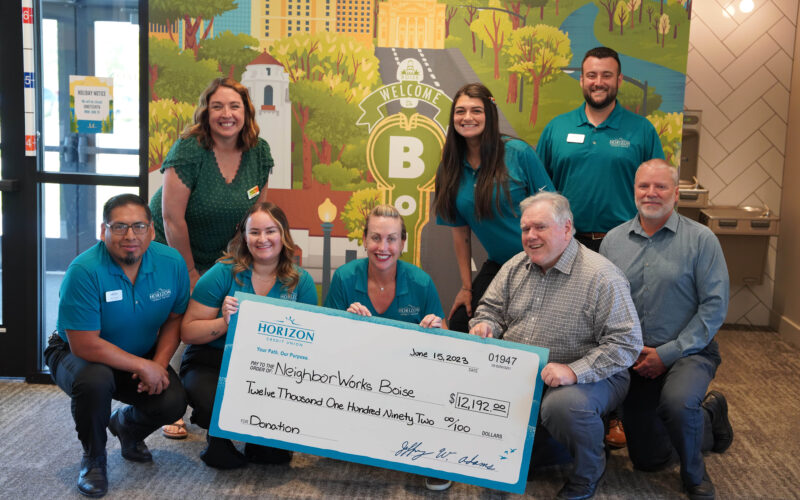 Horizon Credit Union, based in Spokane, Washington, has helped make a lasting impact on affordable housing and community development in Idaho's Treasure Valley area.
On June 15, the credit union presented a $12,192 donation to NeighborWorks Boise, the total of which included funds from a partnership with the Federal Home Loan Bank of Des Moines through its member impact fund. This matching grant program provides more than $2 for every $1 contributed by eligible organizations in qualifying states and territories.
The partnership allowed Horizon to nearly triple its initial donation. The combined amount will significantly support affordable housing and community development needs in the Treasure Valley area.
"Horizon focuses on three main pillars of community stewardship: health, hunger, and education. NeighborWorks Boise also focuses on these areas in many ways," said Gaby Blumenfeld, community engagement specialist at Horizon and previous community engagement coordinator at NeighborWorks Boise. "We are excited to team up with another organization that wants to make a difference in our neighbors' lives."
NeighborWorks Boise plans to use these donated funds to help seniors remain in their existing homes by making modifications to increase livability and sustainability while providing regular maintenance and upkeep. They also plan to use funds to expand their HomeSharing Program, which helps facilitate compatible living arrangements for households with available space. By focusing on affordable housing and community development, Horizon Credit Union and NeighborWorks Boise aim to create lasting positive change in Boise and surrounding communities.
Posted in Idaho, Regional Member News.