OnPoint Community Credit Union Awards Scholarships to Six Phenomenal OSAA Students
June 20, 2023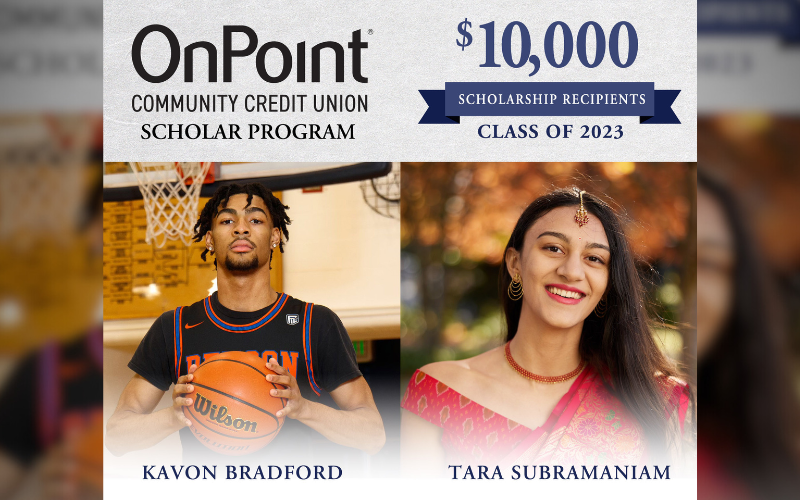 OnPoint Community Credit Union, based in Portland, Oregon, and the Oregon School Activities Association (OSAA) today announced six graduating seniors have won scholarships worth up to $10,000. The awards are part of the 2023 OnPoint Community Credit Union Scholar Program and are double the amount of previous years' scholarships.
The program recognizes graduating Scholar Athletes and Activity Scholars from OSAA member schools with two $10,000 scholarships and four $5,000 scholarships. The two winners of the $10,000 scholarships are Kavon Bradford of Benson High School and Tara Subramaniam of Lincoln High School.
The four winners of the $5,000 scholarships are Austin Baker of Bend Senior High, Charles Black of Central Catholic High School, Camila Garibay of Sheldon High School, and Lane Shaffer of McDaniel High School. OnPoint received more than 350 applications from 146 OSAA member schools.
"We are proud to partner with the OSAA to honor exceptional students who have already achieved much success academically and within their sport or activity, all while making a significant impact on their communities," said Rob Stuart, President and CEO of OnPoint Community Credit Union. "Take a few minutes to read about this inspiring group of future leaders and I believe you'll agree that we are in very good hands."
OnPoint's Scholar Program honors graduating Oregon high school seniors who have earned a 3.50 or higher unweighted cumulative grade point average and have earned a varsity letter in an OSAA-sanctioned sport or competed in an OSAA-sanctioned activity.
"I commend our 2023 scholars for their excellence in the classroom and their communities," said Peter Weber, OSAA Executive Director. "We're excited to honor their achievements and grateful to OnPoint for partnering with us to recognize some of our state's top high school seniors."
All graduating seniors who participated in OSAA activities were eligible to apply for a scholarship. The Scholar Program is part of OnPoint's partnership with OSAA as the title sponsor of the Oregon high school state championships.
OnPoint selected winners based on letters of recommendation and personal essays about their community leadership, classroom success, and how participating in OSAA activities has helped them achieve their goals.
Posted in Oregon, Regional Member News.