SELCO: 5 Tips on Transitioning to a Digital App
June 6, 2023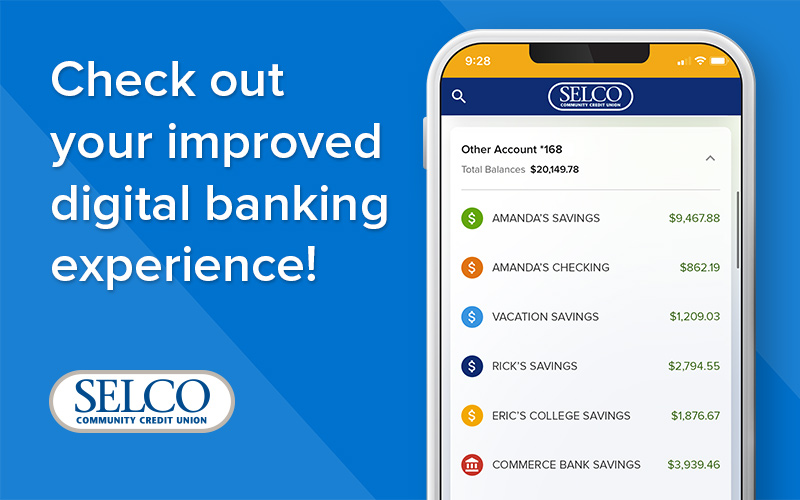 With rapid advances in banking technology and a profound shift in members' banking habits and preferences, most credit unions have at least considered overhauling their digital banking platform.
For SELCO Community Credit Union, based in Springfield, Oregon, the transition to a more advanced platform that allows it to keep up with the pace of security enhancements and technological change was a necessity.
From implementation to launch, SELCO's transition to a new digital banking platform took 10 months — an ambitious timeline that required a lift from the entire organization to successfully meet.
When the new platform went live in the fall of 2022, it was met with minimum member disruption and positive reviews. In fact, SELCO's new app is currently rated 4.8 stars on the Apple App Store, with more than 2,700 reviews — compared to the 2.6 stars its former app garnered before the overhaul.
Now six months from launch, here are some key change management takeaways from SELCO's experience:
Extra work on the front end pays significant dividends
Understand why your organization is making the transition, know what it hopes to get out of it, and approach vendors that might be able to successfully carry out your vision.
SELCO spent the year prior to implementation clarifying SELCO's digital strategy goals, performing marketplace analysis, and vetting potential vendors before selecting a digital banking partner. SELCO then chose the vendor it felt would meet its strategic vision, including providing the best member and operational experience.
Bring everyone along for the ride
Clear, detailed, and accessible communication is crucial for the internal team. Six months ahead of launch, SELCO drip-fed a video series featuring subject matter experts to prepare team members for the changes.
For the launch itself, SELCO created a collaboration channel on its intranet for team members to support one another in the moment, as well as a "Launch by the Numbers" widget that tracked the number of logins, number of transfers, number of calls, average call length, and more.
Additionally, SELCO produced 27 unique interactive modules and more than 60 separate procedures and job aids to help train staff on the new platform and in turn use that information to support members.
Arm members with all the information they will need
For any transition to be successful, your members need an abundance of resources. SELCO created more than 100 self-serve resources for members, which generated more than 60,000 views within the first two months of launch.
Not only did these resources clarify the transition for members, but they also helped ease the burden on staff, as team members were able to share those resources when members reached out with questions.
Transparency with members is important, but so is timing
The difference between communication that informs and assures and messages that cause alarm can be a fine line. Messaging should be targeted and personalized, and timing is everything.
Communicate too early or offer a message without any available action to take, the message is likely to be forgotten — or worse, raise member concerns. With all communication, make sure you know the answer to the following: What do you want your members to take away? Will the messaging be forgotten by the time it's actionable? Is the message relevant to everyone receiving it?
Of course, no transition is perfect. For SELCO, online bill pay wasn't available for three days, a serious disruption for members. Even the best planning won't account for every possibility. But when the unexpected does happen, it's important to communicate quickly so that members and team members alike are updated on the progress.
Overpreparing and underutilizing sure beats the opposite
Taking cues from best practices and lessons learned by other financial institutions, SELCO created a detailed crisis communications plan in case an emergency arose. The credit union also significantly upped its call center staffing for more than a month, doubling it at times, to provide relief to team members and support members as efficiently as possible. By closely monitoring the contact center stats, SELCO was able to unwind the additional support in line with our members' growing comfort.
Even though the crisis communications plan wasn't ultimately needed, it will no doubt be a useful and reassuring resource for future projects. And even without a crisis, the excess staffing helped members make a more seamless transition and gave everyone, internally and externally, peace of mind.
Check out the new digital banking experience in the video below:
Posted in Oregon, Top Headlines.