OneAZ Credit Union Announces Brandon Michaels as New President and CEO
June 6, 2023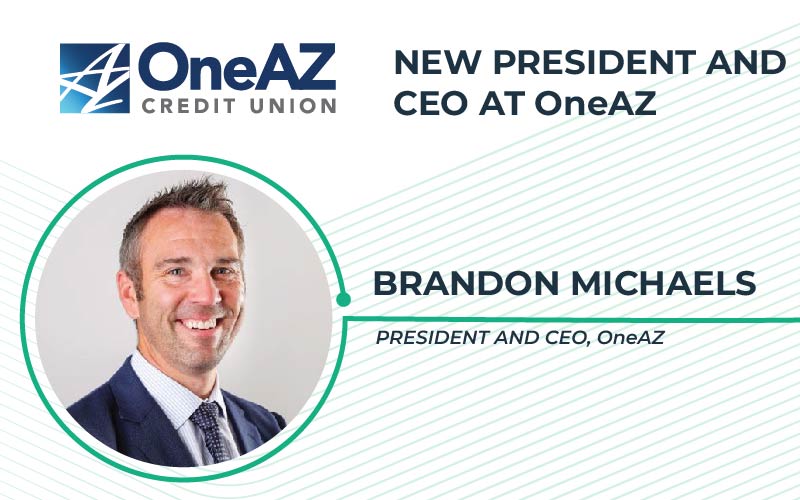 OneAZ Credit Union, based in Phoenix, Arizona, is proud to announce that Brandon Michaels has been named president and CEO following the retirement of Kim Reedy, president and CEO.
Michaels arrives at OneAZ with nearly 20 years of executive leadership experience in the credit union industry. He's previously served as president and CEO at two credit unions.
His visionary leadership elevated those institutions into industry leaders by focusing on member experience, innovation, and growth. As a third-generation credit union CEO, Michaels understands the member-focused mission of OneAZ and the credit union movement.
"Brandon embodies OneAZ's mission, vision, and values," said Jon Borge, chairman of OneAZ's board of directors. "At OneAZ, our mission is 'to improve the lives of our members, our associates, and the communities we serve. Michaels' entire career has been dedicated to these principles. He's passionate about bridging the gap between the member-focused mission of credit unions and the innovative technology that members expect. He understands that this requires a dedication to growth, innovation, and collaboration – all of which are already present in OneAZ's culture of collective influence."
"I am excited to join OneAZ Credit Union and grateful to the board of directors for their confidence. OneAZ has a reputation for outstanding member experience, innovative products and services, and an internal culture that exemplifies the Credit Union Movement," he said. "As we look toward the future, I aim to build on the strong foundation that Kim and the leadership team have in place. Together, we will work tirelessly to ensure that all Arizonans have access to equitable banking, advanced financial wellness technologies and resources, and the security provided by one of Arizona's strongest financial institutions."
Most recently, Michaels served as head of corporate development with Allied Solutions LLC, one of North America's largest providers of innovative financial services products for financial institutions and automotive dealerships. Previously, he served as president and CEO of Wellby Financial in Houston, Texas, and president and CEO of Mazuma Credit Union in Kansas City.
Borge thanks Kim Reedy for his service as president and CEO. "During his four years as chief executive, OneAZ experienced unprecedented growth in both membership and asset size," he said. "Furthermore, he advanced OneAZ's culture of inclusivity, which has helped drive innovation and excellence. We wish him the best in his retirement."
Posted in Arizona, Regional Member News.