Daily 'Micro-interactions' Key to Member Financial Wellness and Credit Union Growth
May 23, 2023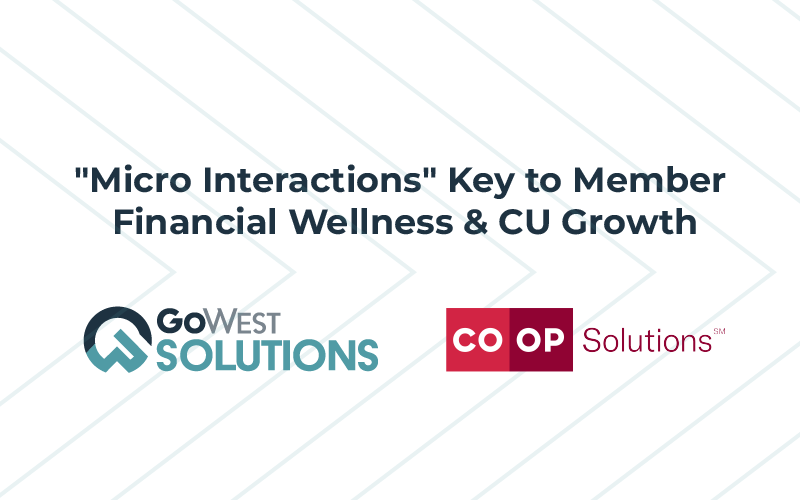 In response to ongoing financial uncertainty, consumers are looking for reassurance in the form of convenient financial solutions that balance immediate needs with long-term financial success.
New research from Co-op Solutions indicates credit unions have an opportunity to provide that reassurance through convenient tools that manage day-to-day needs.
The research, conducted in partnership with EY and Mastercard, studied recent changes in consumer and credit union member behaviors, preferences, challenges, and activities. More than 2,000 current credit union members and 1,000 credit union prospects participated in the survey.
Co-op's research is free and available for immediate download, via the white paper "Co-op CU Growth Outlook: Fueling financial performance through daily interactions."
Among the research findings were four key takeaways pointing to what the report calls, "the compelling golden opportunity" for credit unions:
Credit union relationships are increasingly fragmented: Credit union members have on average triple the number of financial relationships as non-credit union members.
Convenience tops cost: Both members and prospects prefer financial products that offer additional convenience features along with rates that are on par with the market.
Digital payments are primary: This method continues to expand and has emerged as the main driver of daily interactions and member engagement. Forty-five percent of respondents cited engagement as the top reason for maintaining a primary relationship with their financial services provider.
Micro-interactions lead to long-term loyalty: There is a direct correlation between daily money management and long-term spending and savings affecting members' overall financial wellness.
"These insights highlight the compelling golden opportunity that credit unions have to effectively compete with national banks and fintechs, by offering financial tools focused on meeting their members' daily micro-transaction needs to grow member economic participation," concludes the report.
In response to the research, Co-op Solutions recommends credit unions address three areas of focus:
Engage every day: Credit unions can acquire and deepen member relationships across all segments and categories of behavior by becoming more deeply embedded in transactional value streams and winning the primary financial interaction moment-by-moment.
Give good guidance: By helping members manage their daily financial needs, credit unions are well-positioned to support their long-term financial wellness goals.
Earn the member balance sheet: Credit unions can earn more of their member's financial relationship by offering solutions that combine competitive rates and pricing with outstanding convenience – all designed around personalized member needs.
"To regain the trust of financial consumers and achieve long-term growth, credit unions must rethink their reliance on life-stage services like lending and embrace a new model of member centricity that begins with serving members' everyday lifestyle financial needs," said Samantha Paxson, Chief Experience Officer for Co-op. "Daily, micro-transactions are the gateway to long-term relationship value, and are the best route to institutional growth and fulfilling our role of helping to enable members' financial wellness."
Contact your GoWest Solutions Team or visit Co-op Solutions to learn more about how your credit union can grow through exceptional member experiences.
Posted in GoWest Solutions, Top Headlines.