Navigate the Latest Complexities in Compliance
Posted by Jennifer Johnson on May 16, 2023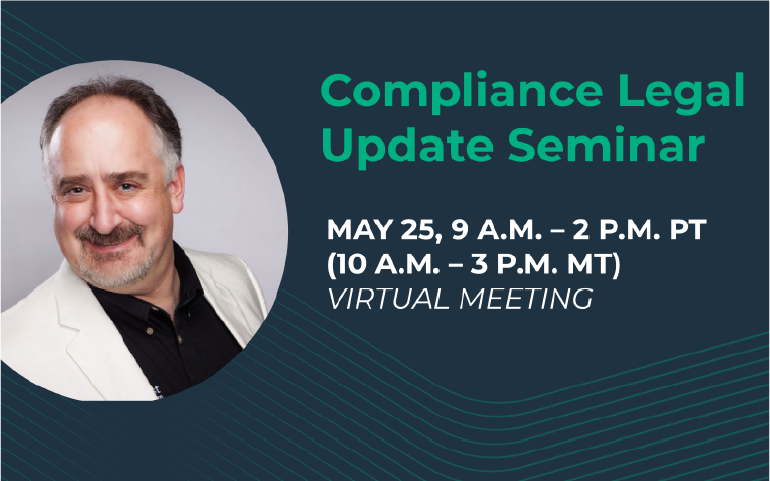 In the world of compliance, nothing stays the same.
From federal guidelines to new regulations by the NCUA and other agencies, credit unions must abide by — or at least be aware of — ever-changing rules.
Figuring out what you need to know can be a hassle. But events like GoWest's compliance seminars can help — trusted law firm partner Farleigh Wada Witt, representing nearly 100 years of legal compliance expertise, consistently provides high-quality analysis and has become indispensable to members over the years.
Right now, the firm is examining the Consumer Financial Protection Bureau's recent ruling on small business lending to see how it affects credit unions. New requirements on lender data collection — including gathering information on demographics, lending decisions, and the price of credit — might catch some credit unions off guard, said David Curtis, director of compliance services at GoWest.
"This is going to be a major change," he said. "Credit unions might have to develop a lot of new processes, update their systems, get disclosures — some have a lot of lift ahead."
Another CFPB circular on the illegal "reopening" of deposit accounts, announced by the government agency May 10, will also likely be discussed. CFPB affirmed a bank may violate federal law if it unilaterally reopens a deposit account to process transactions after a consumer has already closed it, according to a release.
Attend the next legal compliance seminar on May 25 to learn more about the wide-ranging impact of CFPB's small business ruling and other up-to-date information on what matters most. Farleigh Wada Witt builds its slide deck the night before to include any last-minute changes, and accounting service Hauser Jones and Sas will also be featured.
Other topics at the seminar include:
CFPB's policy statement on "abusive" acts and practices
The chat function and wiretapping – recent litigation and how to avoid it
New trends in plaintiff actions, including demand letters and lawsuits for violations of state wiretap rules.
CFPB continues to focus on "junk" fees – overview of the CFPB's Junk Fees Supervisory Highlights Special Edition
NCUA final rule – New cyber incident notification requirements for FICUS
CFPB proposed rule would effectively cap late fees on credit cards
Click here to join the conversation.
Posted in Events, Top Headlines.