BECU's 2022 Annual Report: Financial Strength Drives Purpose Forward
Posted by Alex Robinson on May 16, 2023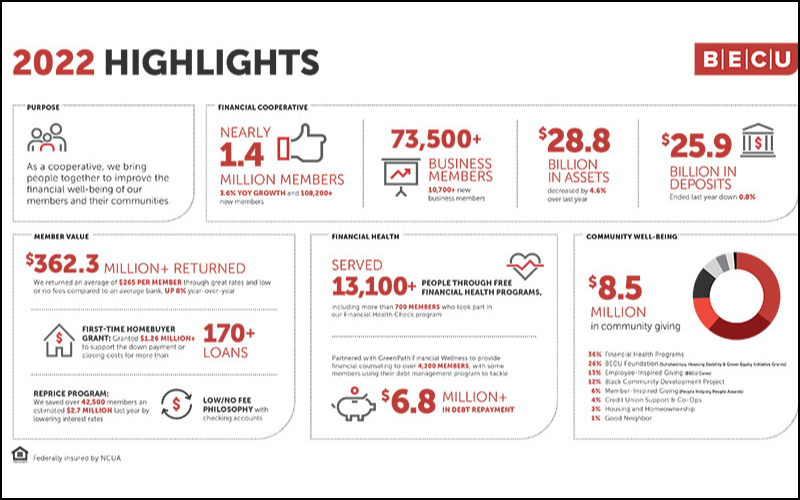 In its 2022 Annual Report released last week, Seattle-based BECU reported the financial cooperative grew its membership to nearly 1.4 million members (a 3.6% year-over-year increase) and ended the year with $28.8 billion in assets (a 4.6% year-over-year decrease) and a net worth (capital) ratio of 10.66%.
BECU's member loan portfolio grew by 23.1% from the previous year to $16.3 billion in 2022. Member deposits equaled $25.9 billion and were relatively flat year-over-year after two years of record-setting growth.
"BECU's financial strength drives our purpose forward as we work to improve the financial well-being of our members and their communities. Our strength allows us to invest in products, programs, and services to deliver even more value and positive experiences for our membership," said Beverly Anderson, BECU's president and chief executive officer. "As a credit union, we remain committed to serving our members now and for future generations. Together, we can build a bright and sustainable future that empowers more individuals, families, and communities to achieve their financial goals."

Return to members
In 2022, BECU returned over $362.3 million to its members through great rates and low to no fees compared with bank averages (an average of $265 per member). Examples of its Return to Member initiatives included:
Reprice program: Saving more than 42,500 eligible members an estimated $2.7 million by automatically reducing the interest rates on their loans and/or credit cards for those who demonstrated healthy financial habits.
Eliminated/Reduced fees: Eliminating and/or lowering Non-Sufficient Funds (NSF) and overdraft fees, saving consumer and business members millions of dollars in the long run.
First-Time Homebuyer Grant program: Assisting eligible members in purchasing over 170 homes with almost $1.26 million in down payment grants.

Member Features, Products, and Programs
Last year, BECU invested in products, tools, and resources to help boost members' savings and better support their financial goals. New and improved service offerings included:
BECU Envelopes: Helping approximately 25,000 members collectively put aside $45 million in digital envelopes in their BECU savings or Money Market accounts.
Video Banking: Enabling members to securely fulfill financial needs such as opening new accounts, applying for loans or making mortgage inquiries from the comfort of their home or any location.

Return to Community
Through its philanthropic giving, BECU donated $8.5 million in funding to community partners in 2022 focused on increasing financial well-being and equity. Key efforts included:
Community Giving: Awarded grants to local organizations aimed at improving access to postsecondary education, workforce and entrepreneur development, and financial literacy. Example grant recipients include Your Money Matters Mentoring, Evergreen State College, and Asia Pacific Cultural Center (APCC).
The BECU Foundation: Introduced the inaugural Housing Stability and Green Equity Initiative grant programs to aid nonprofits serving untapped communities in BECU's service areas.
Member-Inspired Giving: Granted $525,000 to more than 60 member-nominated nonprofits fostering meaningful change through its annual People Helping People Awards program.
In support of its purpose, the credit union also reached over 13,100 members and community members last year through financial education opportunities, including one-on-one financial health checks, BECU-hosted webinars and seminars, and financial reality fairs. Additionally, BECU partnered with GreenPath Financial Wellness to provide more than 4,200 members with access to free in-depth counseling services. Members used the debt management program to tackle $6.8 million in debt.
Posted in Regional Member News, Washington.