Anatomy of a Banking Consumer
Posted by Jennifer Johnson on May 9, 2023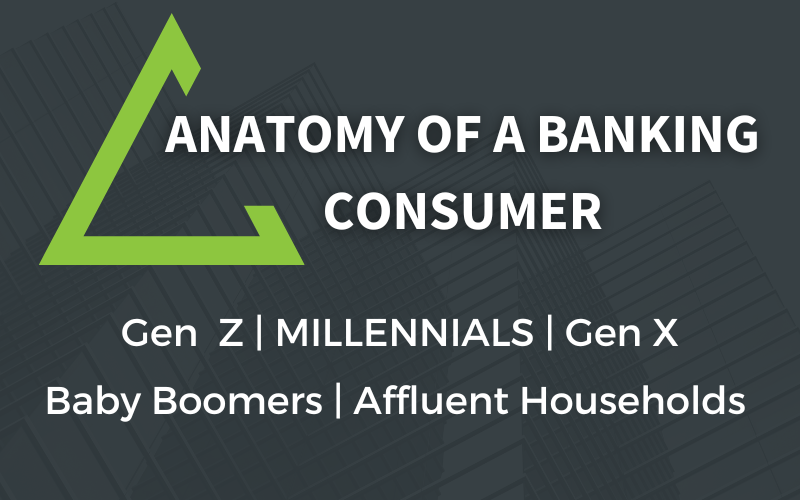 One size does not fit all.
If financial institutions want to build a broad base of loyal customers, they'll have to embrace personalization. But first, they must understand how different generations and segments approach banking so they can deliver the products, services, and messages that will appeal to their varied expectations.
GEN Z
They're not all TikTok and texting — Gen Z likes to mix a bit of analog technology in with their digital lives.
To reach Gen Z with your financial institution's offers, consider focusing on deposits, buy now, pay later, and card incentives.
Gen Z wants to build their savings, but only 26% of Gen Z surveyed indicated they had saved $1,000 or more for unexpected expenses or bills.
To help Gen Z meet their financial goals, financial institutions can provide easily accessed education tools through the web, social media, and apps.
MILLENNIALS
This generation sees how other industries use tech and communication to improve the consumer experience and expect the same from their financial institution.
Millennials are in a busy stage of life. Text messaged offers, auto controls, and convenience are critical as they balance the demands of time, work/life responsibilities, and resources.
Millennials want offers and information on how you can help them. Establish your position as a trusted advisor to save them money on the things they want and need to build loyalty.
Invest in this relationship now because as they get older, they become less receptive to financial institution messages.
GEN X
Gen X is sensitive to being nickel-and-dimed.
Revisit your fees and be sure to show value to win them over.
Gen X is in their prime earning years and spending years, but retirement is a fast-approaching life stage for older members of this generation.
Financial institutions can support Gen X by helping them budget for today and feel more confident about their retirement years.
BABY BOOMERS
Baby boomers tend to prefer a mix of digital banking, as well as tangible, and face-to-face interactions like direct mail and in-branch banking.
For best results, be selective and targeted on what you offer them and how you interact with them.
Continually educate them on how to avoid becoming victims of fraud and market your financial institution's specific services related to fraud prevention.
Baby boomers are not all in the same boat. Understand that some are in retirement mode, while others face financial uncertainty even as their prime earning years lie behind them.
AFFLUENT HOUSEHOLDS
Affluent households will go where they get the best deal and service.
They prefer to use credit cards, and it's all about the rewards.
Their frequent use of credit cards means top-of-wallet status is highly coveted — make yours the one they reach for first.
Before your financial institution can deliver the personalization consumers expect, you must optimize your available data. Many institutions are unaware or unable to harness the rich and extensive consumer data they have at their fingertips. Identify a provider that can combine macro and micro data with market insight, analytic support, and marketing precision to give you a comprehensive, actionable view into how to connect with more of the right consumers for your financial institution.
Contact your GoWest Solutions Team or find the full report, "Anatomy of a Banking Customer," from Solutions partner Vericast here.
Posted in GoWest Solutions, Top Headlines.