Lights, Camera, Action: Students Take to the Silver Screen in Inspiring CapEd Contest
Posted by Andrew Kobialka on March 28, 2023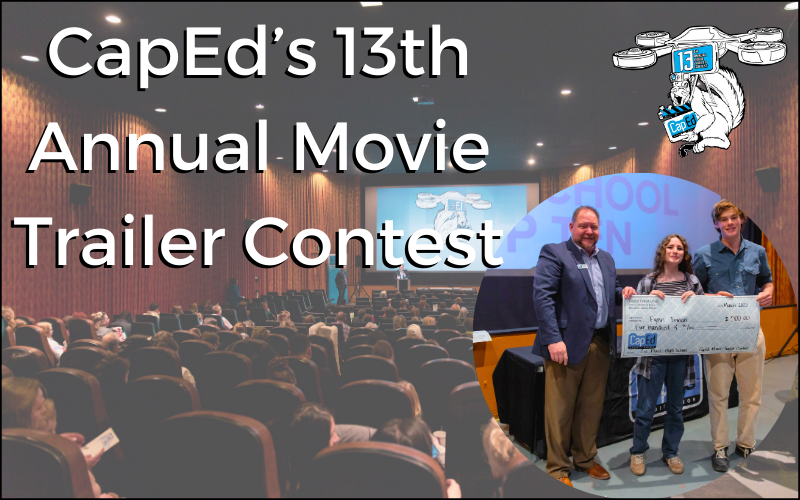 "This is the happiest I've been about something in such a long time!"
That's the excited cheer of Reese Call, producer of "Whispering Pines" – the 1st place movie trailer in the middle school category of CapEd's 13th Annual Movie Trailer Contest.
As the Communications Director at GoWest, I had the pleasure to attend this unique and exciting event for myself.
The contest encourages creativity and skill development through video. The program provides youth – middle and high school students – the opportunity to explore the many aspects of video production including sound, lighting, storyboarding, and other elements of quality video production.
"This is a space for kids to learn, have fun, compete, and be recognized in a way that there aren't a lot of opportunities to do so," said Matt Johnson, AVP of marketing at CapEd. "And this is one of the biggest highlights of the year for our team. It's really rewarding to see the end products and cool to see what kids have to say through their movie trailers as they often offer insight on how kids see the world around them."
With over 50 submissions, the top 10 trailers from the middle school and high school categories, as determined by a panel of local media experts, were ready to be viewed on the big screen. The top three winners won a cash prize and an Adobe license, empowering kids to continue their creative journey.
The community headed to a local movie theater, grabbed a seat with popcorn and soda in hand, sat back, and enjoyed the best of the best in the contest.
Looking around, you would've seen adults and children on the edge of their seats in suspense, or sometimes cheering, and plenty of ooo's and ahh's from the audience. The consensus from the crowd was shock. They were shocked at the quality of storytelling being brought to life on the big screen, leaving many wanting to see more.
Just take a look at the high school 1st place winner, "Hack Ermen: The Multiverse of Times Collapsed" produced by Fynn Erman.
But why does CapEd Credit Union put on this contest year after year? It's all about impact.
"I teach 7th and 8th graders. Having students see that they can compete and win – that type of motivation is not always there for kids. I've seen this contest inspire many students to keep pursuing this passion year after year. It's a renewal of spirit that is really important for kids at this age," said Lee Cornell, teacher at Victory Middle School.
"Without CapEd, we wouldn't have all the equipment to teach film in our schools. I'm really thankful for CapEd. They're super supportive of teachers in general, but specifically, in the world of filmmaking education – they're amazing."
Some past participants have even gone on to be professional filmmakers, and that's exactly what Fynn Erman, as senior, said was on the horizon for him.
The team at CapEd Credit Union showed passion, dedication, and care for this event. Whether it was bringing local media professionals as judges, securing a real movie theater, or simply giving the space for students to be creative leaders that are proud of their hard work ­– it's a lesson and a gift to the CapEd community.
Posted in Community Impact, Idaho, Top Headlines.