Advantis Credit Union Celebrates the Completion of its New Campus in Oregon City
Posted by Jennifer Johnson on March 28, 2023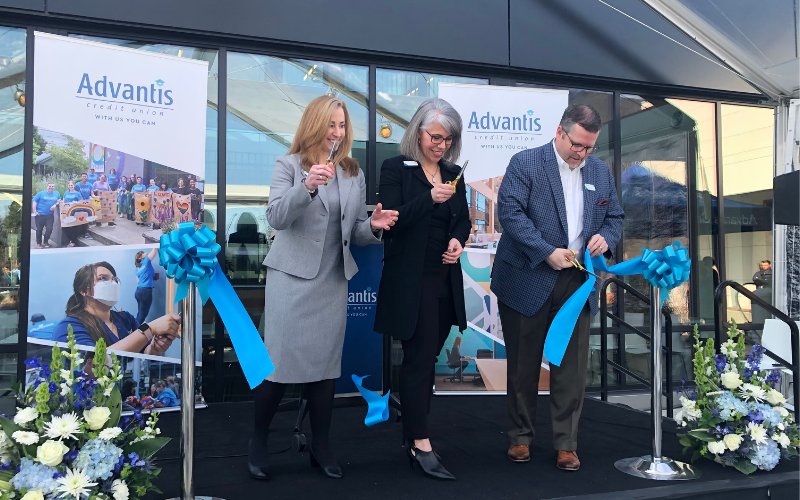 Advantis Credit Union, Oregon's sixth largest not-for-profit financial cooperative, completed its new campus at 14405 Meyers Road in Oregon City. The credit union celebrated by holding a ribbon cutting on March 16.
Seeking to consolidate multiple administrative spaces, Advantis envisioned a campus that would reflect its mission of community engagement and supporting the financial health of its members.
With thoughtful site selection, building architecture, and team collaboration, the new headquarters' design evolved through a robust visioning process that drew heavily from WELL building concepts and LEED criteria while not directly engaging either certification. Composed of three buildings on a 12-acre site, the new campus provides spaces that contribute to users' health and wellness while meeting the functional needs of an active work environment.
The new campus was designed to bring a deeper focus on well-being in the workplace and embrace Advantis Credit Union's culture. It includes a variety of environmental, health and well-being features, including murals by local artists, fitness stations along walking trails, energy efficient lighting, and a decompression room.
Completion of the new campus marks a unique moment in Advantis' history: Employees once located throughout the metro area are now able to work together under one roof. By consolidating three administrative sites into one location, Advantis teams will be able to increase collaboration and the credit union can further help attract and retain a workforce passionate about serving its membership.
Posted in Across the Region, Regional Member News.