Credit Unions Bring A Ray of Light to the Arizona Capitol 
Posted by Andrew Kobialka on March 21, 2023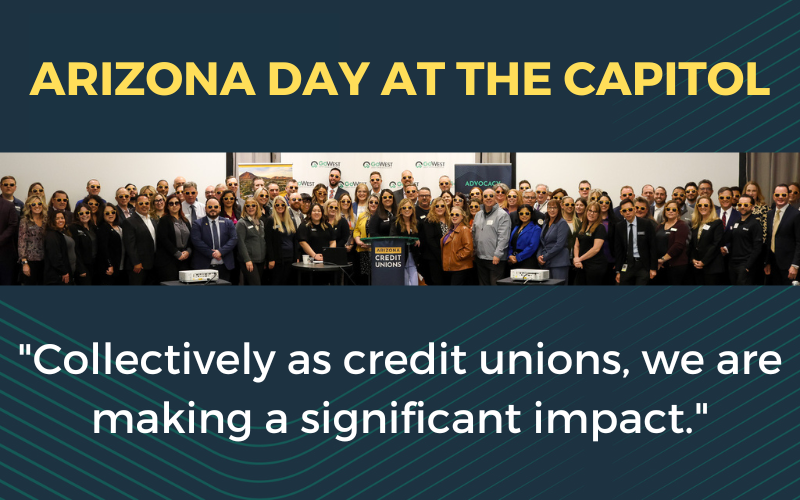 Arizona credit union advocates weren't going to let a little rain dampen their spirits as they delivered the powerful message of credit unions' impact to the state's economy to legislators at the Arizona Day at the Capitol last week.  
While the group may not have needed their bright, credit union-branded sunglasses to protect their eyes, they sure were noticeable as nearly 100 passionate attendees donned them anyway as they shared the economic and community impact reports with legislators.  
The legislators couldn't help but notice them either. But the real message truly was the data-driven impact reports detailing the $3.7 billion in economic impacts delivered to the state by Arizona's credit unions who serve 2.2 million member constituents.   
These reports give us tools to explain with data and numbers to show our legislators what we're doing in the community. Along with sharing those personal stories of what we're doing, we can show the larger impact with the numbers," said Brian Lee, President & CEO of Landings Credit Union and who serves as Co-Chair of the Arizona Governmental Affairs Committee, which collaborates with GoWest to support and develop the advocacy priorities agenda. 
Economists from ECONorthwest performed an independent analysis that documented how credit unions' not-for-profit, cooperative structure drives such a large contribution to the economy and communities. In addition, Arizona credit unions provided community impact data to a GoWest survey detailing things such as financial education provided to students and adults, car loans, charitable contributions, and more. The rich data paints a tremendous wholistic picture for legislators of the tangible value of credit unions in the state. See the impact report for Arizona here. 
"We know that credit unions are essential in Arizona and sharing this data with legislators truly resonated with them," said GoWest's Vice President, Legislative Affairs for Arizona, Austin DeBey. "With the combination of the state-level impact of $3.7 billion and the tremendous amount of volunteerism, financial education, assistance to first-time homebuyers that credit unions contribute in their communities, legislators can truly see the value we bring – to the economy and the communities where their constituents live." 
 Arizona's Credit Union Day at the Capitol wraps up the series of the events that were held at every state Capitol beginning in mid-January. 
Economic and community impact reports were shared with elected officials in all six states represented by GoWest, and at the federal level, at the CUNA Governmental Affairs Conference earlier this month. 
"This Day at the Capitol is really a great opportunity for all of us to come together as credit unions to bring this data and show the impact we're making in Arizona," Lee added. And at CUNA GAC, we got the same kind of reception. When Senator Sinema heard the economic impact number, she said that was like three Super Bowls every year – and added 'lead with that!' Their eyes get bigger when we show how many members are in their district and in the state, what our financial impact is – it helps them to see that collectively as credit unions, we are making that significant of an impact."  
 In addition to the Day at the Capitol on the ground activity, Lee and Vantage West CU President and CEO Sandra Sagehorn-Elliot, the Arizona GAC CO-Chairs joined GoWest CUA's President and CEO Troy Stang for an interview on the CUBroadcast. You can watch here.  
Posted in Advocacy, Arizona Advocacy, Top Headlines.