5 Ways to Future-Proof Your Branches
Posted by Andrew Kobialka on March 21, 2023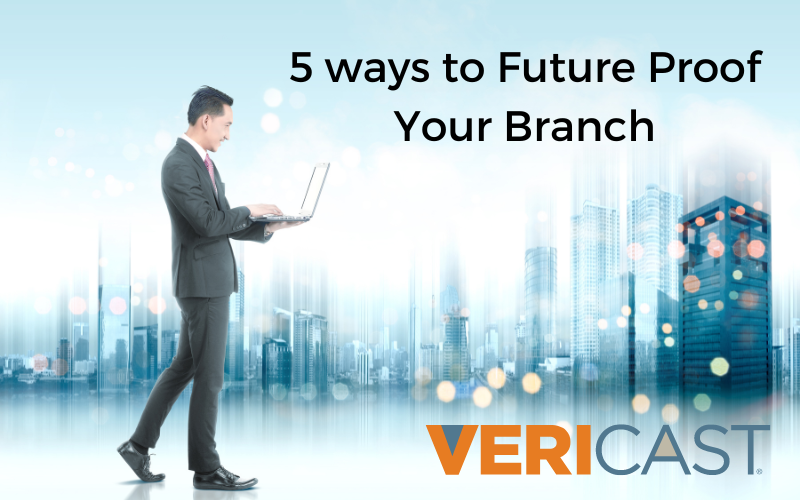 Discussion of the "demise of financial branches" has been going on for years. Most recently, the global pandemic heightened the chatter as consumers adopted digital banking in droves. But to borrow a Mark Twain (mis)quote, the death of the branch is greatly exaggerated.
Of course, banking has evolved and continues to evolve, because consumer preferences and technology continue to evolve. According to a recent Vericast study, people primarily conduct their personal banking through their institution's app or website (72% for both), while 56% bank in person at the branch, and 50% use online-only banks.
It's important to note that while they primarily bank using one channel or another, most consumers use a combination of channels — only 3% bank solely in person and 10%  bank solely online. And in some cases, use may not indicate preference. In North America, a study by McKinsey found that while 74% of consumers are willing to use mobile, only 36% say they prefer mobile over branches. Baby boomers are the least likely to bank through a mobile app or at an online-only bank.
From where they choose to live, to how they prefer to communicate, consumers now have more options than ever, thanks to technology. How can you make your credit union a top choice and ensure your branches don't become obsolete? To future-proof your branches, they'll first need to evolve. These five services offer a good place to start.
1. Insist on Instant Card Issuance
Today's consumers aren't used to waiting. They can get just about anything they want, instantly, and they're certainly not expecting to wait 7-10 business days for their debit or credit card to arrive in the mail. When you place a permanent, personalized card directly in the hands of your customers, not only are your customers happier, but your financial institution benefits, as well. Your card can become top of mind and wallet sooner (or remain there).
(Tip: An instant-issuance SaaS solution offers an affordable and easily managed way to deliver the convenience, security and experience customers want from your institution.)
2. Value Video Banking
Video may have killed the radio star, but it's breathing new life into financial-institution-branch activity. Thanks to the pandemic, consumers are accustomed to using video for everything from school to work to doctor appointments. Today, many institutions leverage teleconferencing to serve customers. For example, they can service at multiple locations from one "hub" location. This allows for more efficient allocation of branch staff as employees from one location can use video conferencing technology to support customers at another location. And shorter wait times mean a better customer experience. For the camera shy, there is also videobanking software that allows customers to connect and speak with a contact center or branch representative face to face, without the actual face to face.
3. Set Up Self-Service
You may know them as Personal Teller Machines (PTMSs, Interactive Teller Machines (ITMs) or Live-Assist but these amped-up ATMs are becoming more commonplace as branch layout and traffic change. Taking on the functionality of traditional tellers, these units can help free up your staff to address more in-depth needs and requests from customers. Some financial institutions create teller hubs in their contact center or allow employees to service customers remotely while working from home. Others have created micro-branches or drive-thrus with these machines as the main mode of banking business.
4. Leverage Lobby Management Software and Concierge Service
Take a cue from the retail and service industry. With lobby-management software and concierge services, you can allow customers to book their appointments online, and you can anticipate staffing needs and more. Don't think of concierge services as a "take-a-number" experience. Think of the it as an efficient way to check in customers and log the necessary data to ensure they receive the services they need.
5. Bet on Banking Pods
Another way to nix the teller line in favor of dialogue with customers is by using banking via pods or services centers. The pod model allows for more and more natural conversations and needs-based understanding when customers visit your branch. This works even better when employees are universal bankers instead of tellers only or loan officers.
Keep the following points in mind on your journey to future-proof branches:
Remember technology can enhance the employee's role, but it can't replace the employee altogether. The goal is to embrace these tools to improve the customer experience.
While creating a better branch experience and creating a better digital experience are noble and necessary, it's equally necessary to ensure a seamless digital-to-branch experience for customers as they transition between the two channels.
Consider this mindset: your branch should be an extension of your digital experience rather than your digital experience being an extension of your branch.
Branches are often the last stop—for hard-copy document signing, final payments needed in person, or for managing an issue that can't be handled remotely.
Designate branches as the location for high-value services and the space where customers can engage in financial education and financial-wellness conversations with bankers.
Not sure where to start? Make a few changes at a branch you think will be most receptive (e.g., a younger, smaller branch to start). From there, be deliberate in gaining feedback, using those learnings to implement changes across your branch network.
One bite at a time! You don't have to make all changes across all locations at the same time.
The best way to find out what your customers, and employees, want from your branches is to ask them. Conduct an experience survey. Voice-of-the-customer and voice-of-the-employee surveys are qualitative ways to gather insight before investing in changes, and they can also help you understand how changes you have made are being received.
To learn more reach out GoWest Solutions Team or visit Vericast, a GoWest Solutions Partner.
Author: Alexa Bennet, Content Marketing Manager at Vericast.
Posted in GoWest Solutions, Thought Leadership, Top Headlines.