Is Your Credit Union Ready to Reimagine Lending? Your Members Are
Posted by Andrew Kobialka on March 14, 2023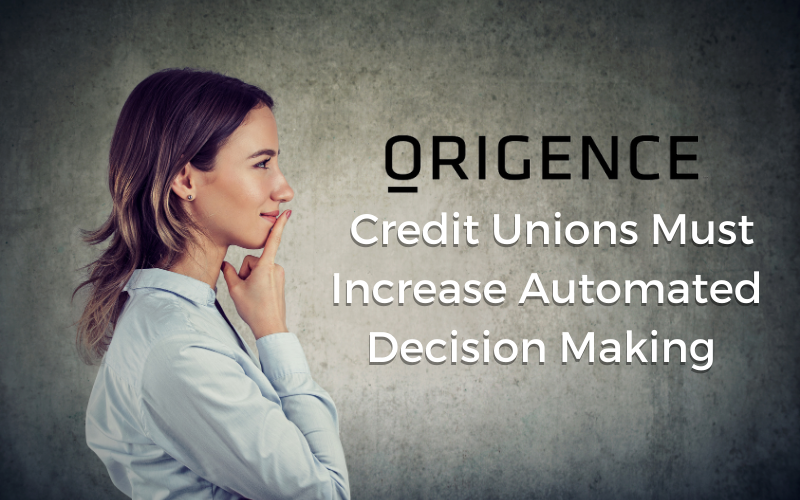 Credit unions used to say every borrower is different. In today's digital-first world, it seems all borrowers have one attribute in common – they want everything now.
From the moment they start to fill out an application, borrowers expect the entire process to be frictionless and easy. They also want to have control over the steps. To be competitive in a world where taking 10 to 15 minutes to approve or decline a loan is "too long," credit unions need to improve their auto-decisioning capabilities and have a way to connect with partners of all types.
There is an urgent demand to increase credit union connectedness to the outside world and marketplaces.
Lending and credit in a digital-first world
Artificial intelligence (AI) plays a big role as lending evolves, helping to lower risk while improving efficiency. Additionally, credit unions need access to credit reports, verifications, and other valuable data integrated with their digital origination platform. Credit bureaus and AI companies in the financial services space are focusing on decisioning as a service, which is front and center with lenders. This means taking custom scoring models and leveraging various sources – AI, data, and scoring models – to create models that can be quickly evaluated in market and changed if necessary.
Digital lending technology is improving, allowing more approvals with better results in the form of fewer collections. One lender told us his credit union is using this tech to attract a younger audience and make better decisions about them. The bureaus have been accumulating data sources and tools, and data scientists are creating models, all of which provide capabilities that credit unions don't have on their own.
It should be noted that the three credit bureaus are quite different from each other. Experian has a homegrown product that consolidates data in the company's platform. TransUnion has a different approach centered on partnering with various platforms, while Equifax has its own tools. All the capabilities the bureaus offer collectively should be seen as an arrow in the quiver for credit unions.
Technology that delivers
Financing is evolving to take place in the palm of the borrower's hand, and the playing field is shifting dramatically. As the lending process and experience continues to transition to digital/online, credit unions need to take full advantage of the technology available. Credit unions have low cost of funds and great rates, so they are more than capable to compete, as long as they have the technology to remain at the top of the funnel for indirect and direct lending channels.
In this new world of AI and decisioning, with shifting channels and speed, credit unions realize they need to leverage automation. The movement to get there is far from complete. As more data converges, the models get better and allow decision rates to increase. As this happens, it is mission-critical for credit unions to increase their auto-decision rates.
The technology will continue to be refined, and risk underwriting predictability will improve. AI models can parse through more data and catch factors that humans cannot.  As a lender, having the right data and the right tools allow you to see the trends and adjust more quickly. This is a core capability that lenders will need to master as the digital world continues to progressively change the lending landscape.
To learn more reach out to the GoWest Solutions team, or visit GoWest Solution Partner, Origence.
Posted in GoWest Solutions, Thought Leadership, Top Headlines.