iQ Credit Union Awards $10,000 in Grants to Local Educators
Posted by Amanda Guyton on February 28, 2023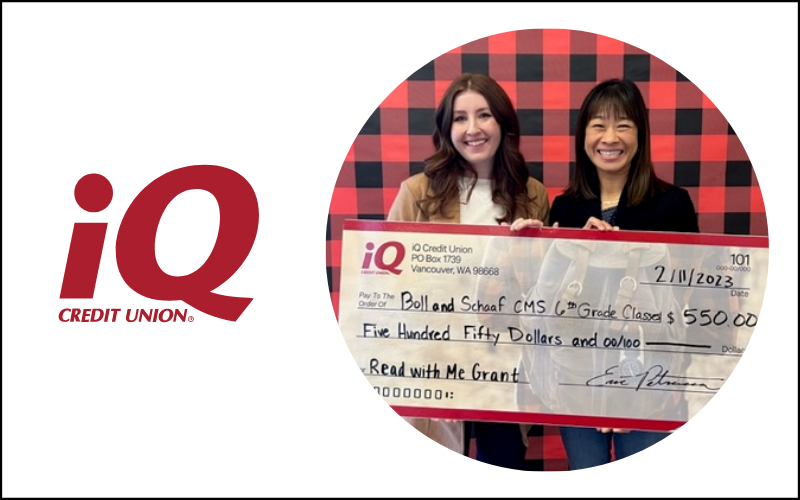 iQ Credit Union, a member-owned, modern-day financial institution based in the Pacific Northwest, today announced the Read with Me and Literacy Grant program awarded a total of $10,000 across 10 school districts, positively impacting 34 educators and 5,409 students in Oregon and Southwest Washington.
"Because iQ was founded by school teachers and rooted in education, we are always looking for ways to give back to schools in our area," said Danette LaChapelle, chief communications officer at iQ. "As iQ has expanded its presence in Oregon, we are excited to be able to share the grant programs with our educators in Oregon as well."
The Read with Me grants went to 21 elementary school teachers in eight school districts in Southwest Washington and two educators within one school district in Oregon. The grants were awarded in the form of a gift card from a locally owned toy and book store, Kazoodle Toys, ranging from $100 to $250. The grants allow them to purchase new books for their students that they can take home and keep.
Ranging from $250 to $1,500, the Literacy Grants were awarded to 11 middle school and high school educators in 5 school districts within Southwest Washington. These educators presented unique and innovative ideas designed to spark student engagement in their classroom's literacy program. The grants can also be used to fund field trips, supply materials, a project, or school library books.
Grant recipients are chosen by a committee of iQ employees. During the review process, the committee takes into consideration the number of students the grant would impact, the types of books or materials being purchased, and how the applicant's literacy program will motivate students to read and reach their goals.
The grant applications open in August and close at the end of October. For more information on iQ, visit iQCU.com.
Posted in Regional Member News, Washington.