Giving Members Earlier and Easier Access to Their Funds
Posted by Andrew Kobialka on February 28, 2023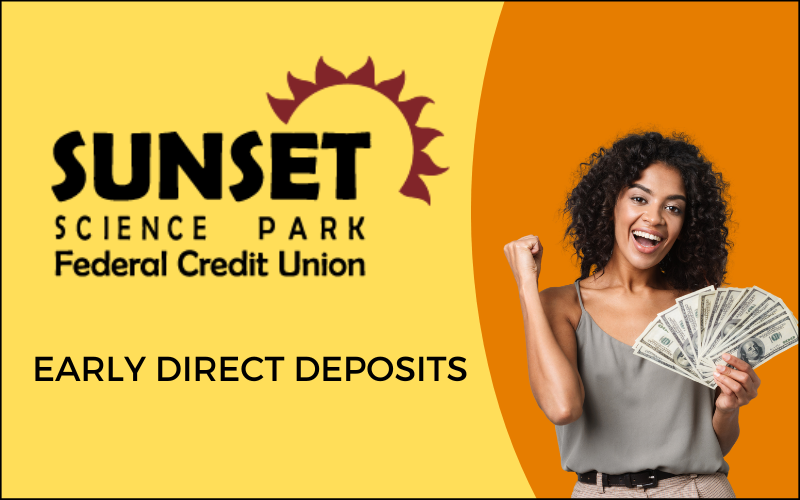 As president and CEO of a small credit union in Portland, Oregon, Rhonda Baggarley is always looking for new ways to use limited staff and resources to meet members' evolving needs. Baggarley has spent more than three decades working for Sunset Science Park Federal Credit Union, serving as a chief executive since 2011.  She keeps a pulse on member sentiment. And that's why she spearheaded the idea of implementing early direct deposit to offer members quick and easy access to paychecks, Social Security payments, and other direct deposits.
"I had seen commercials from online financial institutions advertising the idea and I had heard from some of our members that they would be more inclined to bring more accounts over to Sunset if we offered earlier access to their deposits," said Baggarley.  "So our team figured out how to make it happen, and our members see it as a benefit to them."
Baggarley shared the story of how and why Sunset implemented early direct deposit — and why they promote it — in a recent meeting of the GoWest Small Credit Union Roundtable.  "At each Roundtable meeting, we encourage participants to share and celebrate their successes," said Rich Mohr, GoWest Director of Credit Union Development. "It's a great opportunity to network, and they learn from each other how to handle the diverse challenges facing smaller credit unions."
The concept of early direct deposit has been adopted in recent years by many large financial institutions. It requires a financial institution to be comfortable with the idea of making funds available to consumers even before those funds are deposited into their accounts – which is something to consider for smaller credit unions.
More than 90% of American workers get paid by direct deposit, according to a survey by the American Payroll Association. That deposit works its way through the Automated Clearing House Network which handles electronic payments between financial institutions.  The files detailing payment amounts are typically received at least a day or two ahead of the funds—and on the west coast, there's sometimes even more of a lag because of time zones.
"It's critical that everyone responsible for implementation of early direct deposit understands the process from beginning to end — how the files look, how the core processes are going to reflect the numbers on all reports," said Baggarley. "We are fortunate at Sunset to have a bookkeeper who was absolutely instrumental in keeping everything in balance. It's a learning curve and we dedicated a few weeks to creating a system that worked for us before launching the service." That was ten months ago.  Today, Sunset promotes the service to its members on the front page of its website with a call-out "Direct Deposits now appear sooner in your account!" and a link to this message:
"You may have noticed some exciting changes in your account lately. One of the most frequent questions we get asked is why some financial institutions can deliver your paycheck one to two days sooner than others. So, we thought if the big guys can deliver that kind of service, and we are KNOWN for our superior member service, we should be able to deliver the goods as well. And now we can."
Fundamentally, early direct deposit doesn't change much for the member. Social security checks still arrive each month. Payroll checks arrive as scheduled from employers. Bills get paid through automatic payments as scheduled. But Baggarley appreciates that members perceive this as a valuable benefit…and they use it.
"Our members are utilizing the funds as soon as they are in their accounts, especially those who depend on their Social Security checks," said Baggarley. "There's a minimal risk. And it's a perceived benefit that creates real value for our members."
Are you curious what the GoWest Community is all about? Learn about our Councils today! Connect with the Director of Credit Union Engagement, Rich Mohr, to answer all your questions.
Posted in Thought Leadership, Top Headlines.