Stories to Listen to – A Black History Month Spotlight with LaTrice Brewster
Posted by Andrew Kobialka on February 21, 2023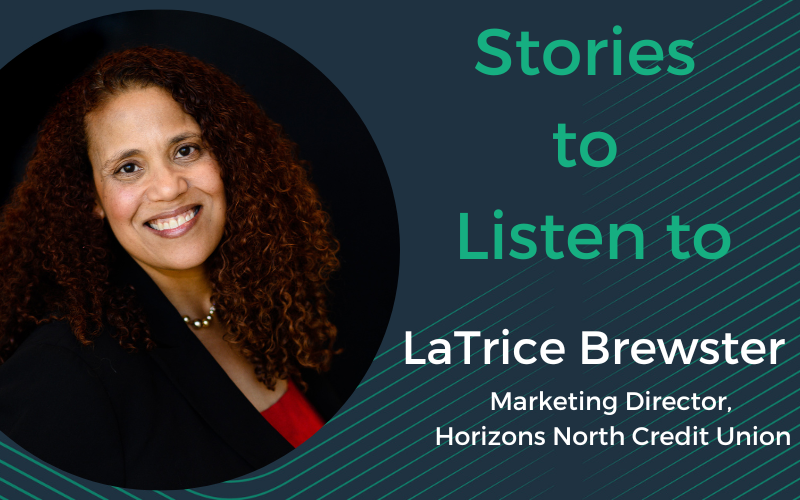 People Helping People – the mission of all credit unions. It's a simple, but lofty goal with seemingly endless potential. But how do we know we are doing it right? Maybe it's in the way credit unions engage by listening to the needs and stories of members. But it's equally as important to look within our organizations and listen to each other's experiences, stories, ideas, and needs.
This Black History Month we listen to LaTrice Brewster, Marketing Director at Horizons North Credit Union, based in Westminster, Colorado, and graduate of the Advanced Leadership Program (Emerging Leaders Program).
Which formative moment in your 14-year journey in the credit union industry has shaped your passion and career?
I'm fortunate to be a marketer that works at a credit union. I can't point to one thing and say, "this is it, the moment I knew", but rather it is the cumulation of everything. I do remember being a new employee and being sent to a meeting with other credit unions to share marketing ideas. I was in shock, trying to understand why we would share information with "competitors". Now, I send samples to others or offer advice when asked. I'm lucky to work in an industry and for a credit union that fosters the principle of helping others and your community. My passion for what I do has been fueled by our members and my coworkers. I love going out into our community meeting people, working with them, and helping them. I also work with an amazing team and they are part of the reason I'm still at HNCU.
Why is it important to support diversity in the financial industry?
Do credit unions need to tell a story, or do they need to listen to the stories of others? For example, lenders are taught about what is illegal and how to follow guidelines for equal housing.  Staff and board members usually receive general training on the subject. I think that training is important, but I'd like to see more information and storytelling. For me, the question should be what does our industry do to humanize issues affecting people of color?  To be a part of any community you need to understand it.
I've seen DEI programs unfold and bloom over the years, but I've also seen people become desensitized and fatigued when diversity is mentioned. I'd like to see empathy and cultural diversity become the norm vs. specialized training. Everyone's story is shaped by their culture.
For example, I grew up knowing what redlining is. Looking back on it, I think breaking that barrier and stereotype was one of the driving forces for me to buy my house. When I purchased my home, it is one of the few times my dad told me he was proud of me. I would hear from others he told them he was proud of me and my accomplishments. When I closed on my house, he was happy I "got the loan" on my own. Someone told me once they thought that was a sad story. I don't think so – I grew up with stories of how black people couldn't live in certain parts of town or go to "that" bank. It was normal, so when he mentioned he was happy about my mortgage and my mom would have been happy too. I knew it was about more than my house.  I still smile when I think about it.
As the Marketing Director at Horizons North Credit Union and graduate of the Advanced Leadership Program (formerly Emerging Leaders), you've gained a lot of experience and skills that have shaped you into the influential leader you are today.
Which leadership qualities have you found to be most important and why?
The leadership program still impacts me today. The class helped me trust myself and it is okay to ask my team for help (delegating). When you work at a small credit union you wear many hats and sometimes you just see your to-do list. I learned sometimes you need to work on the big things because long-range planning is the only way to solve the "problems" on the never-ending to-do list.
Do you have any closing thoughts you'd like to add?
We've seen change in the world and our industry over the last few years. It's great, but I'd like to see more. Years ago, when I lived in Tucson, I was at a business lunch with a sales rep from the local TV station. I'll never forget, she asked me "What are you?"  This was in front of the owner of the company I work for and my co-workers. After several scenarios in my head, my final answer was "I'm black."  Someone reading this may be shocked, but remember that was then and it would not happen now. Last month, at an industry event, I was asked "What nationality are you?" The question was sincere, not rude, but I don't think everyone was asked that question.
I'm from Arizona, my mom was born in New York, and my dad in Arkansas. I graduated from Northern Arizona University, I volunteer in my community, and I'm black.
Mid-level leaders – Join the Advanced Leadership Program. The world-class curriculum will set your career path on a trajectory of growth. Learn more.
Posted in Thought Leadership, Top Headlines.