Oregon Credit Unions Introduce Financial Education Legislation with Bipartisan Support
Posted by Andrew Kobialka on February 21, 2023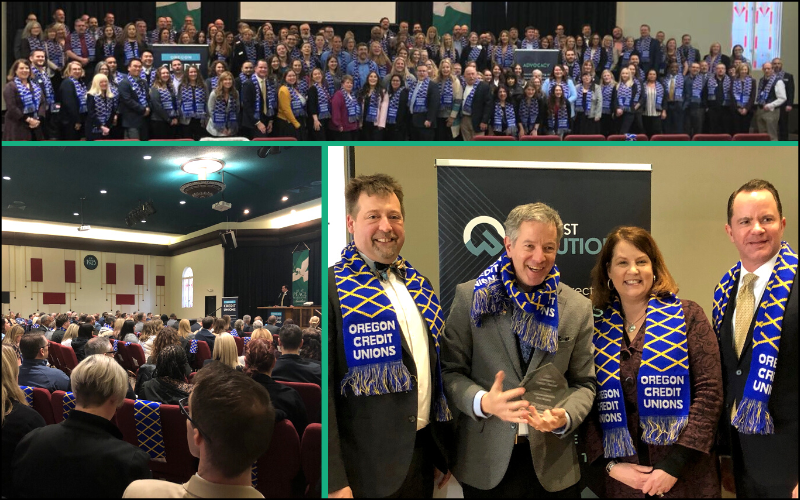 When Oregon credit unions shared their 2023 legislative priorities with GoWest Credit Union Association, financial education was key. Advocates and legislators agree that students should have more opportunities to learn money management skills in school.
So with bipartisan support, Oregon Senate President Rob Wagner (D-Las Oswego) and Senate Republican Leader Tim Knopp (R-Bend) jointly introduced the bill credit unions proposed, which will provide "real world" financial education in high schools.
Senate Bill 3 was enthusiastically received as hundreds of advocates fanned out to meet with their lawmakers last week, during the Oregon Credit Union Day at the Capitol. In an address to attendees, Sen. Wagner said that classes credit unions already offer, and the legislation "will help kids across the state apply for jobs, to apply for college, to write a resume, to prepare for interviews. Students would learn the fundamentals of financial literacy…filing an income tax return, creating a budget, understanding credit card statements, and planning for retirement, real-world skills that you've engaged in your communities, trying to encourage our students before they graduate from high school – this is landmark, and it all comes at the request of you."
Pam Leavitt, the association's Vice President of Regional Grassroots and Political Programs/Legislative Affairs, added that "the essence of the credit union movement is financial education…We are confident that this bill become law."
In a GoWest news release issued to coincide with Credit Union Day at the Capitol, Knopp noted an obligation we all have to empower communities to thrive. "Ensuring our kids have the future planning skills and financial literacy to succeed once they become adults is a critical step in financial wellness and supports the economy's overall health."
Advocating for a Modern Charter
Keeping Oregon's Credit Union Act modern is a long-standing advocacy tradition, with Act update legislation passing nearly every two years for the past two decades. This year, a bill has been introduced that would modernize credit union operations around the fiscal year, board operations, and investments, resulting in relevant member services.
Recognizing Champions
Rep. Rob Nosse (D-Portland), accepted an invitation to speak to Credit Union Day at the Capitol attendees, as a long-time credit union member and supporter of their work. But he was surprised to get a standing ovation as he walked into the meeting room – and to be presented with the Community Impact Award.
"It's been my honor to lift up your industry and be a part of it," said Nosse. "You're not-for-profits, you're mission-driven, you do a lot of education with your members, and you provide loans and a lot of financial support…I'm grateful for what you put out into the world."

Arizona is Next! Join the Historic Event
The sixth Credit Union Day at the Capitol event this year will take place in Arizona, on March 15. Advocates are encouraged to turn out in force for this historic first-ever GoWest event, where reports will be shared detailing credit unions' significant economic and community impacts. Sign up today! 
Posted in Advocacy, Events, Oregon, Top Headlines.