OnPoint Community Credit Union Now Accepting Nominations for Outstanding Educators Schools Making an Impact
Posted by Andrew Kobialka on February 21, 2023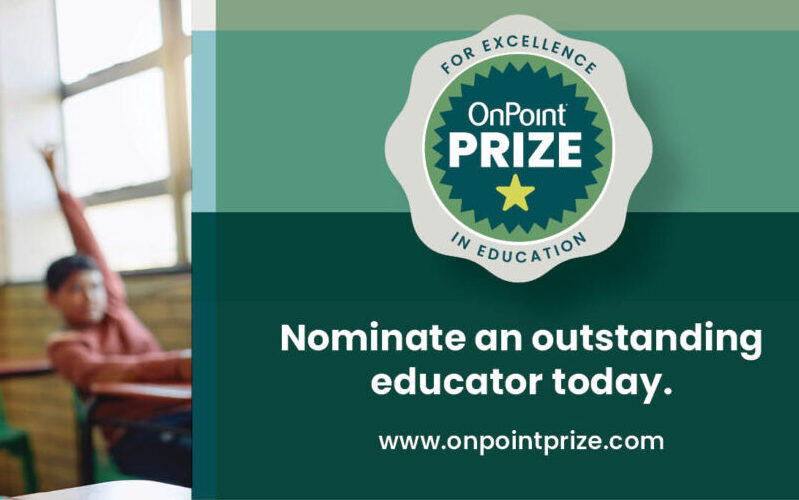 The 14th annual OnPoint Prize for Excellence in Education will recognize inspiring educators and schools with cash prizes—including paying the mortgage or rent for four teachers for an entire year!
OnPoint Community Credit Union, based in Portland, Oregon is calling for the public's help to honor the region's most inspiring and innovative teachers. Starting today, anyone can nominate a local educator for the 2023 OnPoint Prize for Excellence in Education. The OnPoint Prize will award $193,000 to the winning educators and schools in May of this year.
Four winning educators will have their mortgage or rent paid by OnPoint for one year. Four runners-up will each receive a $5,000 cash prize. The OnPoint Prize also includes the Community Builder award for innovative school projects. Four schools will receive $2,000, and a fifth school selected by community votes will receive $5,000. New for 2023 is the Gold Star award—a fourth category to honor pre-kindergarten teachers, counselors, librarians, and school administrators.
"OnPoint's story began with teachers, so we know the full extent of how dedicated educators and quality schools help create strong communities," said OnPoint President and Chief Executive Officer Rob Stuart. "The OnPoint Prize is an opportunity for us to lift up the educators who go above and beyond to inspire creativity, belonging, and curiosity in the students who are the next generation of our community leaders.
Anyone can nominate an outstanding educator or apply for a Community Builder award starting today at www.onpointprize.com. The nomination period closes at 11:59 p.m. PST on Tuesday, April 11. OnPoint will announce the Educator of the Year finalists and Community Builder winners on May 9.
Since 2010, the OnPoint Prize has awarded more than $650,000 in prizes to 313 local educators and schools. This year's awards include:
Educators of the Year

Educators of the Year: Four educators will have their mortgage or rent paid for one year and receive a $2,500 donation to their schools for resources and supplies. One educator from each category below will be chosen:

Grades K-5
Grades 6-8
Grades 9-12
Gold Star: A new category that recognizes one educator who is a pre-kindergarten teacher, school counselor, substitute teacher, librarian or school administrator.

Runners-up: Four educators, one from each of the above categories, will receive a $5,000 cash award and a $1,500 donation to each of their schools for resources and supplies.

Community Builder Awards

One school, selected by community votes, will receive $5,000 for a project that will meaningfully improve that school or community.
Four additional schools will each receive $2,000 for special projects.
Meet the 2022 Winners
Last year, OnPoint awarded six teachers and 11 schools a total of $88,510 in cash prizes as part of the 2022 OnPoint Prize for Excellence awards. See below for details about last year's three Educator of the Year winners and five Community Builder award winners.
Educators of the Year
Jennifer Krebs, a kindergarten teacher at Marcola Elementary School in the Marcola School District; Emmanuel Aquino, an 8th grade English-Spanish immersion teacher at Beaumont Middle School in Portland Public Schools; and Jesse Bolt, a 9th-12th grade reading intervention, English language development and Braille teacher at the Washington State School for the Blind in Vancouver, Wash., were named OnPoint's 2022 Educators of the Year.
Jennifer Krebs' unique curriculum and passion for ensuring students are ready for their next educational step propelled half of her kindergarteners to a first-grade reading level in the first five months of school. Krebs' secret to success is creating individualized lesson plans rather than teaching the entire class at once. She feels called to walk alongside her kindergartners, helping them discover who they are, what brings them joy, and how to learn and build relationships. She makes learning fun through songs, props, movement, and storytelling. She also teaches students about financial literacy, understanding the importance of introducing money management to children at a young age. Krebs' approach has been so successful that her superintendent asked her to help develop a preschool program for Marcola Elementary School.
Emmanuel Aquino is a bilingual educator who excels at ensuring his Spanish-speaking students and their families feel welcome and seen. Aquino teaches 8th-grade language arts and social studies in Spanish and English, with roughly half of his students being English language learners. He creates his own curriculum, translates lessons, and researches Common Core Standards and Oregon's English Language Proficiency Standards so that his students receive instruction that improves their critical thinking and language skills. Aquino's quiet nature, combined with his high expectations, allows him to forge strong relationships with students and families. He invests in each student inside and outside the classroom. When he identifies a struggling student, he works with colleagues to develop a plan to help meet their specific needs, and tutors them in his free time.
Jesse Bolt is not only an English teacher who specializes in Braille and self-advocacy skills; they are a local leader and advocate for students with multiple exceptionalities. Bolt teaches their students the art of storytelling, designing original learning modules in poetry writing, literary analysis, and podcast production. They helped students establish the first Gender Sexuality Alliance (GSA) at Washington State School for the Blind and served on the school's first Equity and Inclusion committee. They also led the implementation of a school-wide reading intervention program for struggling Braille and print readers. Bolt trained their colleagues to use and adapt the rigorous curriculum for students who are blind or have low vision, and how to monitor and accurately report student progress, a critical gap in the blind and low vision field. As a result, other state schools for the blind have adopted their model.
Community Builder Awards
In 2022, OnPoint gave out five Community Builder awards to schools for innovative projects that inspire students, foster community, demonstrate a commitment to diversity, equity and inclusion, and reach a broad segment of the school community. The $5,000 grand prize, selected by community votes, went to Desert Sky Montessori in Bend, a tuition-free Montessori elementary school. Specifically, the award supported the development of a new school music program, including the purchase of Montessori-centric music instruction tools for all seven classrooms and Orff Instrument (xylophones, glockenspiels, marimbas and metallophones) training for one teacher. Desert Sky Montessori also planned to use the funds to invite a diverse array of musicians to the school's campfire ring to share their music with students and hold group sing-alongs.
Four schools across Oregon and Southwest Washington received the $2,000 award: Marcola Elementary's Playground Improvement project, McKenzie School District's Fire Recovery and Art Therapy project, Pioneer Elementary's Butterfly and Habitat Learning Gardens, and Reynolds Community Transition Program's Greenhouse Special Education program.
About the Nomination Process
Information about the OnPoint Prize for Excellence in Education and how to submit a nomination are now available at www.onpointprize.com. Anyone can nominate an educator, and educators may also nominate themselves. Applicants must be a full-time, or job-share classroom teacher, counselor, school administrator, or librarian for grades Pre-K-12 in an accredited public, private or charter school, located within any county that OnPoint serves. OnPoint also accepts applications for the Community Builders awards within those same counties. For information about the campaign, additional qualifications, and contest rules, please visit www.onpointprize.com.
Posted in Oregon, Regional Member News.