Engage in the GoWest CDFI Community ­– Now is the Time!
Posted by Andrew Kobialka on February 21, 2023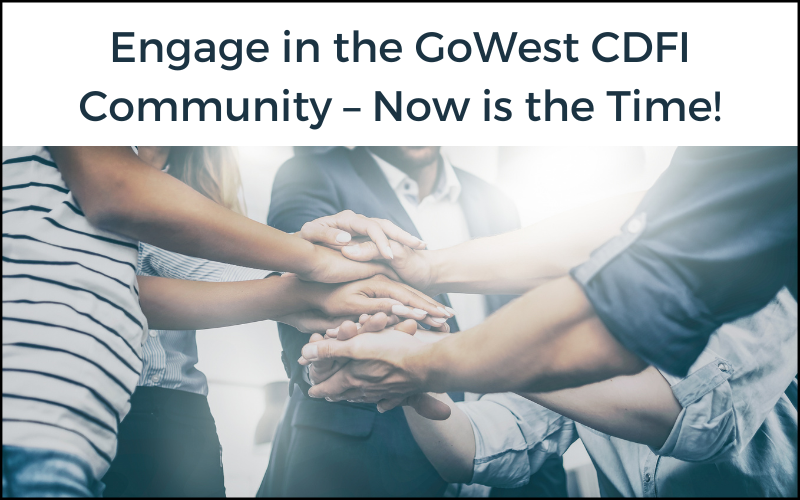 Millions in grant funds from the Treasury are being distributed to GoWest's 45 member CDFI credit unions, who are in turn investing in their communities, driving significant impact by providing broader financial services and opportunities to low-income areas across the region.
For example, Newrizons FCU received a $1.5 million grant in 2021 to support an immigrant community. They used their grant funds to plan for a "Path to Citizenship Program" which would allow them to help individuals open deposit accounts designated for citizenship costs only. This program would also help these individuals get set up with a line of credit account, allowing them to understand the difference between interest and principal payments while giving them a 0% loan.
Another great example is when the State of Oregon presented an opportunity to work with CDFIs, four Oregon credit unions partnered together in 2020 to help nearly 400 small businesses affected by Covid-19 access $1.58 million in lifeline funding that they wouldn't have to pay back.
Each CDFI is actively making a difference in communities across the region, and their stories need to be told to continue and build upon their already measurable impact.
That's where GoWest steps up to support and advocate on behalf of all member CDFI credit unions – leaning policymaker's ears and giving voice to GoWest CDFI members to tell their unique story.
Their recent efforts have earned some exciting wins for CDFI credit unions! Here's what you should know:
Your Voices are being Heard: Caucus and Legislative Recap
The GoWest Advocacy team has been in conversation with members of our Congressional delegation regarding requests for clarification and transparency within Treasury's CDFI rulemaking process. We provided copies of comment letters that were being submitted on the CDFI changes to our Senate delegation on the caucus.
Ryan Fitzgerald, GoWest's SVP of Advocacy, successfully elevated the issues member CDFI credit unions are facing with the Caucus. The CDFI Caucus Co-Chairs, Sen. Mike Crapo (R-ID) and Sen. Mark Warner (D-VA), sent a letter to Treasury calling for more industry input and transparency in the CDFI recertification process.
With the support of many of your comment letters along with concerted GoWest advocacy efforts, and partners like CUNA – the CDFI Fund announced that it would delay the finalization of its CDFI Certification Application. Their intent is to consider the comments it received from credit unions, leagues, and trade associations. This will postpone the launch of the new application.
"This afternoon the CDFI Fund announced that it would delay the finalization of its CDFI Certification Application so that it has more time to thoroughly consider the comments it received in response to the published application. This will require postponement of the launch of the new application further than April 3, 2023." – CUNA Update. 
This represents a significant victory for CDFI certified credit unions and those considering certification. The Fund also states that it is currently making improvements to its Awards Management Information System (AMIS) to ensure that CDFIs can submit appropriate data and supporting materials. The Fund also has stated that it intends to schedule public events to provide updates on the process, its steps towards implementation, and clarifying information regarding details of the new Application."
Have CDFI Advocacy Questions?
Your GoWest team is here to advocate for a strong CDFI environment and provide resources to credit unions. Reach out to Adelle Pomeroy, Manager, Regulatory Advocacy, at [email protected] for more information.
CDFI Roundtables – A Place Learn and Connect:
All GoWest CDFI credit unions, as well as those exploring CDFI certification, are encouraged to plug-in to our quarterly CDFI roundtables to join a collaborative and impactful community.
March 20 – Sign Up
June 5 – Sign Up 
August 21 – Sign Up 
October 30 – Sign Up
At CDFI Roundtables, you'll connect with other CDFIs, see what they are doing in their communities, stay updated on relevant changes, and discover how GoWest can support you on your CDFI journey.
Working on Becoming a CDFI?
If your credit union wants to explore certification or grant support, we have a great team ready to support you. Reach out to Nayab Abbasi, GoWest Foundation Strategic Initiatives Manager, at [email protected], to learn more about the process.
Posted in Across the Region, Advocacy, Community Impact, CU Difference, GoWest Foundation, Top Headlines.