Western Vista Credit Union Promotes Leaders, Re-Structures Executive Team To Respond To Business Growth
Posted by Andrew Kobialka on February 15, 2023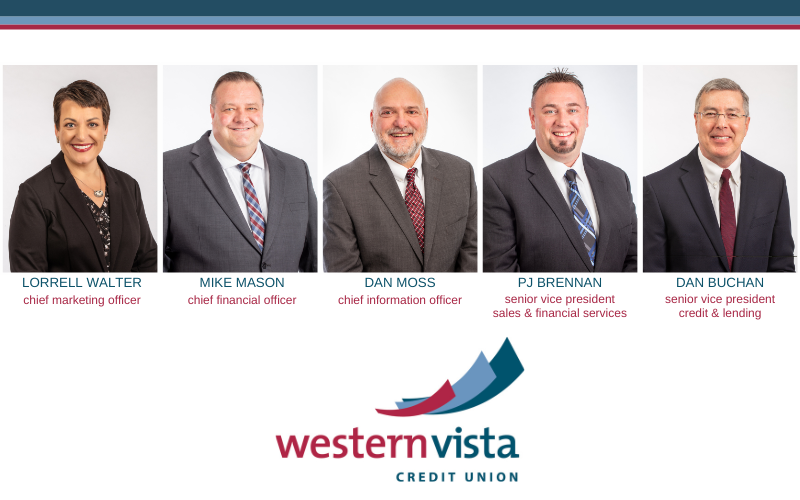 Western Vista Credit Union, based in Cheyenne, Wyoming, is pleased to announce five new leadership opportunities to ensure operational efficiency and organizational effectiveness as the credit union continues expanding and bringing additional products and services to its members.
"It's an exciting time to be part of the Western Vista team," said Steven Leafgreen, president and CEO at Western Vista. "In my six years leading this organization, I have witnessed tremendous growth. I am extremely proud of the work we have done, and I am honored to recognize my executive team for their efforts."
Lorrell Walter has been promoted to chief marketing officer. Walter, who has worked at the credit union for more than six years, oversees and directs all marketing and communication initiatives.
She holds a bachelor's degree in communication from the University of California, Davis and has more than 22 years of public relations and marketing experience. In 2022, Walter received the inaugural Community Outreach Professional of the Year award from the Credit Union National Association Marketing and Business Development Council for her work with the Greater Cheyenne Chamber of Commerce, Air Force Association, Kiwanis, Wyoming Breast Cancer Initiative and Cheyenne Frontier Days.
Mike Mason has been promoted to chief financial officer. Mason began his career at Western Vista in 2019. He oversees and directs the strategic and tactical activities of accounting, operations, facilities, compliance, and human resources.
He holds a Master of Business Administration from the University of Phoenix and a bachelor's degree in business administration and management from Trinity University.
Dan Moss has been promoted to chief information officer. Moss moved to Cheyenne from Montana to join the Western Vista team in 2021 and has been instrumental in the success of several technology initiatives.
Moss retired from the United States Army in 2009.  He holds a master's degree in information technology management from Webster University. Most recently, he was recognized with Western Vista's volunteerism award for his work with the Greater Cheyenne Chamber of Commerce Military Affairs Committee, Hunting with Heroes Wyoming, and the Laramie County Library Foundation.
PJ Brennan has been promoted to senior vice president, sales and financial services. Brennan has more than 20 years of experience in the financial services sector. He has served in numerous roles, most recently as Western Vista's financial services director.
Dan Buchan changes roles and is now senior vice president, credit and lending. Buchan began working at Western Vista in 2018 and brings more than 20 years of experience in the areas of credit, underwriting, and risk management.
He earned a Bachelor of Arts Degree in Economics from the University of Massachusetts-Amherst, serves on the board of directors for Habitat for Humanity of Laramie County, and has previously served on the board for the Old West Museum and the Cheyenne Depot Museum.
Posted in Regional Member News, Wyoming.