Your Peers Are Overcoming Challenges – Join Them
Posted by Andrew Kobialka on February 7, 2023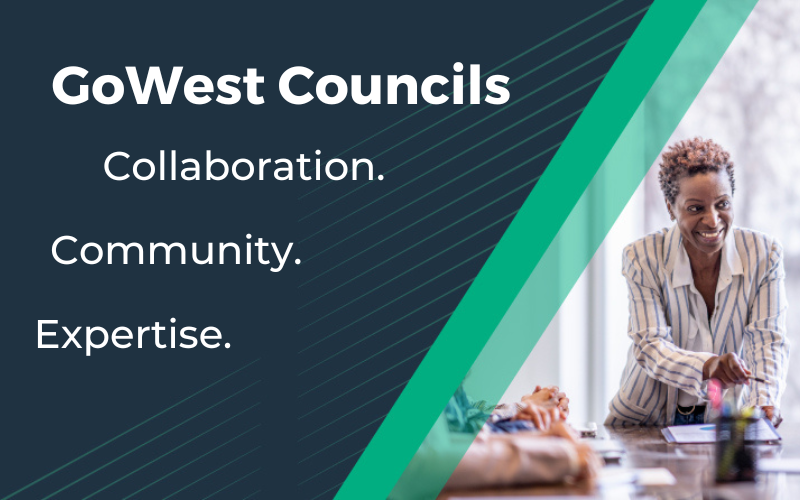 Community, collaboration, and expertise, when joined together, make for an incredibly effective method to overcome challenges and often results in growth. That is exactly the value of joining a GoWest Council!
Councils create a collaborative space for credit union professionals to join others in their area of expertise to discuss hot topics and tackle challenges together. It's a space that fosters camaraderie, accountability, and encourages you to be at the leading edge of your field.
With councils covering eight credit union-specific fields, there's a place for you!
To help you better understand the GoWest Council experience, Monte Drake, VP of Commercial Services at HAPO Community Credit Union and participant in the Commercial Services Council, has shared a sneak peek into his insights into the world of commercial services – a conversation to be continued at the Council's first session on Feb. 21.
What's the #1 reason you attend GoWest councils and other GoWest engagement programs?
The wealth of knowledge that is brought to each meeting from many great Commercial Services leaders. There hasn't been one meeting where I haven't had a couple pages of notes to reflect back on to enhance my team and my organization as a whole. These talented leaders that attend the Commercial Services Council create networking opportunities that have allowed me to develop new professional friendships making me a better person and professional.

What's on the strategic horizon for business services in 2023?
In a rising rate environment, business services will face headwinds finding good loan opportunities that meet their required debt servicing levels. Continuing to stress test loans in an increasing rate environment will help a credit union identify relationships that could have trouble before they actually do, allowing the Relationship Manager to get ahead of those potential problem loans.
Also, liquidity has started to dry up post-pandemic so seeking the right loan opportunities with more limited liquidity could create a challenge. Gathering deposits to increase liquidity will also be competitive given the higher rates paid out for those deposits.
What's keeping you up at night?
The uncertainty of how far the Fed will go to slow down inflation this year. Achieving a "soft landing" would be ideal, but the Fed is not known for getting rates "just right"…the Goldilocks porridge scenario that is being talked about. Uncertainty creates a level of fear with businesses who are trying to profitably grow while managing their debt loads with increasing interest rates.
What's an untapped area of opportunity that you think more credit unions should be exploring?
I have been saying for a few years now that credit unions need to continue to find ways to offer Treasury Services to enhance the deposits of their business members. Finding ways to more technologically and efficiently deliver those enhanced services creates quite a challenge, but overcoming those challenges leads to keeping a business member longer while having more profitable relationships for the credit union.
As a GoWest Member, you have access to a wide network of like-minded professionals. Join them at a Council and be better for it!
Power User Memberships give an entire credit union access to all 24 Council sessions (a 57% Value-Add). This is the best value for credit unions who are pushing for wide-spread growth and development of their teams.
Posted in Thought Leadership, Top Headlines.