Step Into A New Experience – Announcing GoWest Websites!
Posted by Andrew Kobialka on February 7, 2023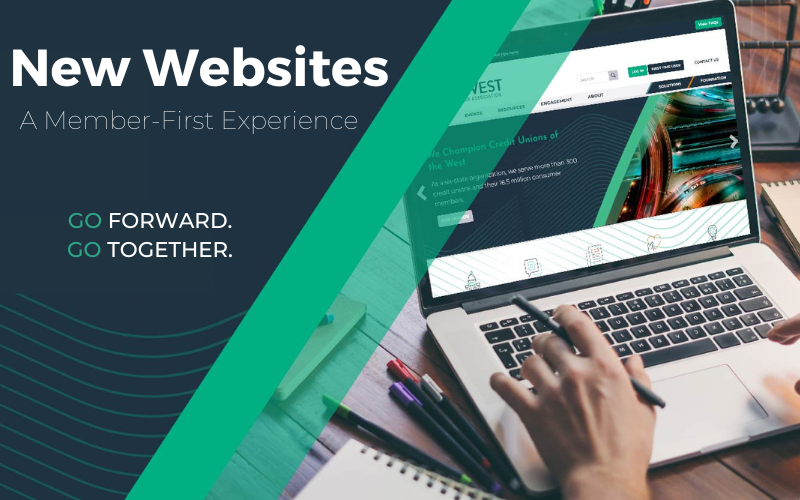 The GoWest Credit Union Association is pleased to announce the launch of its new world-class member-focused website, which will provide you with a modern and transformative tool to experience the NEW GoWest brand. It showcases our passion for creating new and innovative tools to accelerate your credit unions and ensure your members thrive.
"The GoWest member experience was at the forefront of my mind as we designed these websites," said Ben Shuey, GoWest Director of Digital Marketing and Communications. "We listened to members' feedback, and created a space that is user-friendly, all-inclusive, and that allows each visitor to leverage the full value of what GoWest has to offer."
Step into the new GoWest site experience where you can;
Advocacy: Access and experience the GoWest Credit Union Association's top priority as we keep a pulse on hyper-local six-state advocacy. Join us as we lead, convene, organize, and perform state and federal credit Union advocacy initiatives, all to highlight the vital work and critical roll credit unions play in their communities.
Development: Grow to your full potential through our professional development and leadership courses.
Impact: Experience GoWest Foundation's meaningful impact on the communities, employees, and financial systems that strengthen the financial lives of the credit unions we serve and their members.
Solutions: Collaborate with our GoWest Solutions team through their business solutions, thought leadership, and partnership to help you grow and better serve your members.
Communications: Sign up for GoWest Association communications and stay up to date on timely industry news, including all GoWest Regional Credit Unions.
As you navigate the news site, you will find all your member resources, industry news, advocacy support, talent development, signature events, staff support, and more in one place.
Our NEW site reflects our commitment to building a better future for you and your members through our reimagined association. This new site exemplifies our dedication to providing you with the tools and solutions that empower you to serve your members better.
Posted in GoWest Association, GoWest Foundation, GoWest Solutions, Top Headlines.