'Member Obsession' Drives New Marketing Campaign at Solarity Credit Union
Posted by Andrew Kobialka on February 7, 2023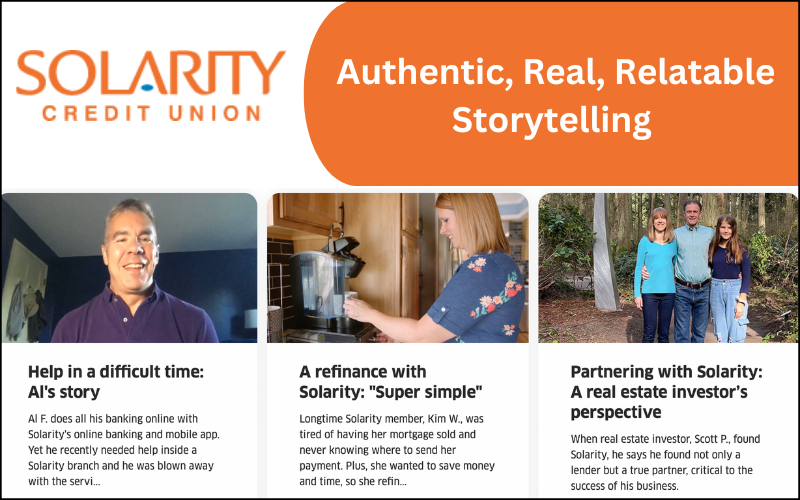 Passion. Impact. Courage. These are Solarity Credit Union's core values. They are also the drivers behind a powerful new marketing campaign intended to deepen relationships with members, broaden member use of Solarity's products and services, and ultimately grow and strengthen the credit union.
The Yakima, Washington-based credit union has produced a series of short videos to spotlight members' experiences. It might be acquiring a car loan or qualifying for a mortgage or using mobile deposit services. In each case, the story captures emotions and experiences in a unique way that Solarity believes will resonate deeply with current and prospective members. And there's already evidence that it's working.
"Each story has to be authentic, real, and relatable," said Solarity President and CEO Mina Worthington.
She says finding those stories is the result of a bold approach to monitoring, tracking, and digging deep into the member experience. "You have to have the courage to reflect upon what your organization is doing poorly as well as what they are doing well. Otherwise, you can't move the needle. As Jim Collins (the author of Good to Great: Why Some Companies Make the Leap and Others Don't) suggests, you have to pick up the rock and look at the ugly things underneath and face the brutal facts. We are very much an organization that is willing to face the brutal facts. We are motivated by creating better experiences for our members."
David Eldred, Solarity's Chief Experience Officer, leads a department that is trained in "experience theory and discipline." They conduct member surveys six times a year, getting feedback each time from approximately 12,000 members. They individually contact members who have complaints and then use those personal experiences to improve processes for all members.
"We do journey mapping," said Eldred.  "We walk through the member experience, identify the friction points, and make improvements. I don't think a lot of organizations do that. At most financial institutions, when a member experience runs up against policy and procedures, it's usually the policies and procedures that win. Here, there's a willingness to 'play in the gray' and have the flexibility to improve the member experience."
Worthington calls it "member obsession" that is grounded in research into customer loyalty, growth, and return on investment. According to Forrester Research, Inc., member-centric companies are 60% more profitable than their competitors, Worthington cited in a published interview last year.
"Transforming our members' experiences increases member-generated revenue by increasing retention and share of wallet, while simultaneously attracting new members to our brand," said Worthington.
Eldred explained that the new video campaign, which is marketed on Solarity's website, YouTube, and other social channels, taps into emotion, hooks the viewer, and reinforces the credit union's authentic commitment to making the member experience positive and memorable.
"You can't be too scripted or it sounds like an advertisement," said Eldred. "As we interview members, we explore the emotional journey they've traveled."
This results in a video story that is powerful enough to keep viewers engaged. The most recent story about a man who was turned down by a bank for a new car loan and turned to Solarity had a 100% view-through rate. Viewers paid attention as the man described his experience with Solarity as "the smoothest transaction dealing with any kind of financial institution" and his decision to move all his financial accounts to the credit union.
"We are growing our organization by understanding our members," said Eldred. "We want to so deeply understand them that we create new products and services important to them."
So far, the new Member Spotlight campaign includes eleven video stories. Eldred and Worthington say there's more to come, with their staff exploring product and service areas where member experiences may not have been stellar… and what the credit union did to turn things around.
Worthington emphasized, "You have to have a culture where the team is very self-aware, embraces vulnerability, and wants to understand the good, the bad, and the ugly in order to implement change."
Posted in Thought Leadership, Top Headlines, Washington.