Oregon Cooperatives Collaborate to Host Legislators
Posted by Ben Shuey on January 31, 2023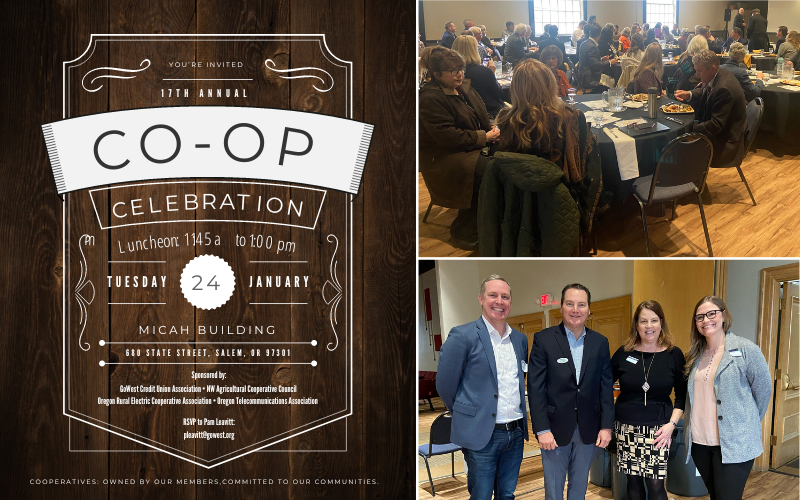 When policymakers understand how credit unions' not-for-profit, cooperative structure sets them apart in the financial services industry, they quickly see how members and communities are well-served by them. This includes financial benefits, unique services, member inclusion in key decision-making, and a culture of community engagement.
From credit unions to agriculture, electricity, communications providers, and more, the cooperative culture in Oregon is strong. That was on display last week in Salem, when Oregon's credit unions, GoWest Credit Union Association, and other cooperatives hosted the 17th annual Co-Op Celebration, a luncheon for legislators.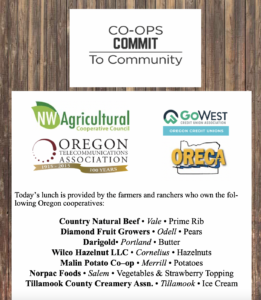 Many legislators consider the celebration to be a must-attend event. And why not? In addition to great conversation, attendees enjoyed a delicious menu that included prime rib from the agricultural cooperative community, fresh Oregon fruits, nuts, vegetables from farm co-op organizations, and butter and ice cream from dairy coops.
"With all of the priorities legislators juggle during the session every year, this annual event is a bright spot for them, and one they so look forward to attending," said Pam Leavitt, GoWest's Vice President, Grassroots/Political Programs & Legislative Affairs for Oregon. "The cooperative community is always equally excited to come together, break bread, and showcase how cooperatives serve legislators' constituents.
Leavitt has long been one of the organizers of the annual luncheon, which, she points out, is a shining example of one of the internationally recognized "7 cooperative principles," cooperation among cooperatives.
Sponsoring organizations besides GoWest and member credit unions included The NW Agricultural Cooperative Council, the Oregon Telecommunications Association, and the Oregon Rural Electric Cooperative Association (ORECA).
Posted in Advocacy News, Oregon, Top Headlines.