Idaho Advocates Turn Out in Force for Credit Union Day at the Capitol
Posted by Ben Shuey on January 31, 2023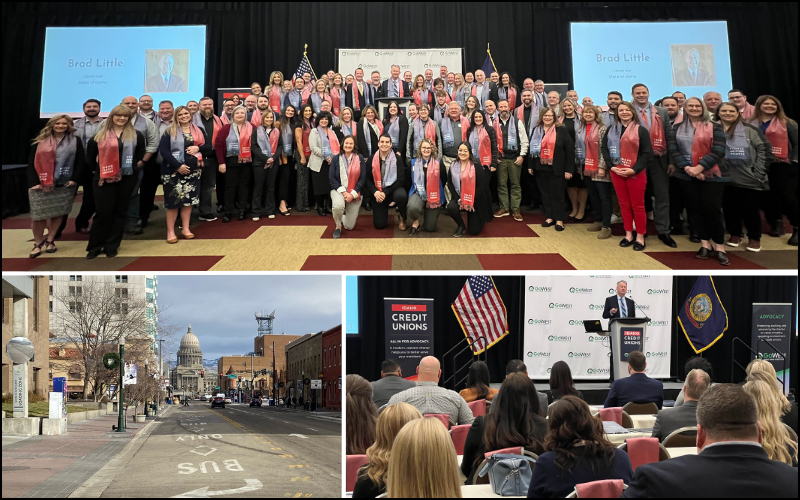 As Idaho legislators juggle conflicting priorities such as the budget, education, housing, and other key issues being considered at the statehouse this session, they can agree on this: credit unions are essential financial services providers in the Gem State.
That's even clearer following last week's Idaho Credit Union Day at the Capitol, where a "full house" of advocates representing credit unions from across the state came to the Boise Centre to tell lawmakers about credit unions' services to the 1.3 million Idahoans who've chosen them as their financial services partners.
Governor Brad Little shared his vision for the state in a keynote address. Nearly 50 legislators joined advocates for lunch to learn more about credit unions' $1.7 billion economic impact, 29,000 hours of volunteerism, and financial education training provided to more than 37,000 Idahoans.
The data came from an independent analysis performed by economists at ECONorthwest, and a GoWest survey of credit unions' community work. The reports are posted online.
"Many of the lawmakers are newly elected to serve, and while some are credit union members, they may have come to Credit Union Day at the Capitol without fully understanding how our not-for-profit, cooperative structure drives financial benefits to members and difference-making community impact," said Zach Forster, vice president, legislative affairs for Idaho, GoWest Credit Union Association. "They left the event feeling much more informed, thanks to the work of all of the advocates who were here."
A key role of advocacy is asking elected officials to support credit union priorities and thanking them when they do. Rep. Brent J. Crane (R-13) was presented with the Community Impact Award by GoWest's Senior Vice President for Advocacy Ryan Fitzgerald.
"Over the last five years, Rep. Crane has sponsored three bills that passed the legislature, modernizing state law and resulting in operational flexibilities for Idaho credit unions. These legislative updates are helping Idaho's credit unions to offer consumers the convenient services they need and deserve," Fitzgerald said.
Crane, now in his eighth term in the legislature, is a long-time credit union member and business owner, who "understands how supporting credit union legislation benefits the people and communities of the state," Fitzgerald added.
Editor's note: All six states served by GoWest are sharing economic and community impact reports with state lawmakers this year. Additional Credit Union Day at the Capitol events are scheduled in Colorado, Washington, Oregon, and Arizona. Information can be found here.
The reports are also of interest to U.S. Senators and members of the House of Representatives and will be shared at the upcoming CUNA Governmental Affairs Conference in Washington next month. Join your GoWest colleagues and thousands of advocates from across the nation, Feb. 26-March 2.
Posted in Advocacy News, Idaho, Top Headlines.