Q&A: How OneAZ Created a Supplier Diversity Program
Posted by Ben Shuey on January 24, 2023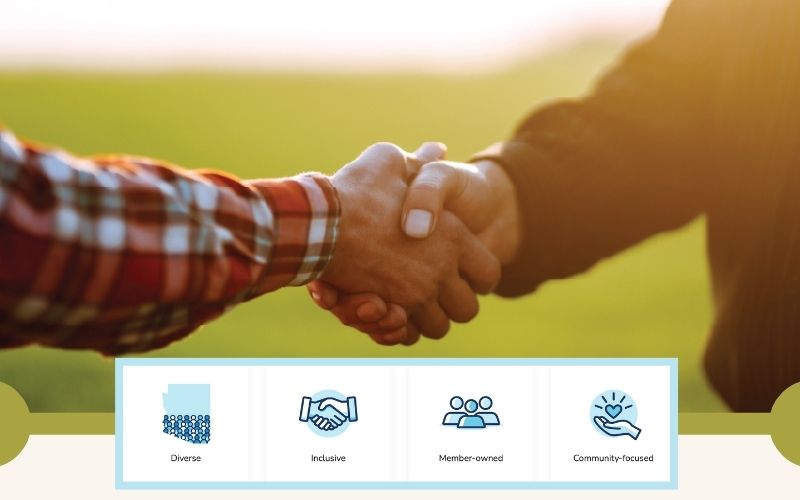 Giving back to the community is at the core of what drives credit unions. OneAZ Credit Union, based in Phoenix, Arizona, went so far as building a registry of diverse local vendors to use throughout the year for their business needs.
That had our team at GoWest wondering what goes into running OneAZ's Supplier Diversity Program. How can other credit unions emulate a similar program for their local branches? And how does it fit into a credit union's business strategy?
To share this and more, we spoke to Margaret Chamberlain, VP of Risk Management at OneAZ, who helped develop this program:
How did this program come to be?
This initiative was driven by OneAZ's Together is Better Committee, which comprises representatives from Human Resources, Training and Education, Marketing, and Vendor Management.
As a committee member, I was tasked with developing a plan to ensure that diversity, equity, inclusion, and belonging were a consideration in all our purchasing needs. While performing research on this topic, I noticed there really wasn't one resource that encompasses all diversely owned businesses. I came across a program at one of the Arizona-based Universities and created our program based on their model.
What is entailed in the application? Is there any disclaimer or endorsement?
The application process is straightforward and can be accessed here.
It requires basic company information, business classification, the types of goods and services the business offers, self-disclosure of the diversity type and whether the business is diverse certified.
We  confirm whether a business is certified however, all businesses are treated equally in the selection process. We do not provide disclaimers or endorsements as this list is currently being used internally. It is still the OneAZ business owners' responsibility to perform due diligence on all vendors partners.
How did you choose which categories to support?
We tried to be all-inclusive and representative of our communities. To receive classification as a diverse business they must be one of the following:
Minority-owned – A business that is at least 51% owned, managed and controlled by individual(s) identified as "minority." See below for minority group options.
Woman-owned – A business that is at least 51% owned, managed and controlled by individual(s) identified as "women."
LGBTQIA-owned – A business that is at least 51% owned, managed and controlled by individual(s) identified as "LGBTQIA+."
Veteran-owned – A business that is at least 51% owned, managed and controlled by individual(s) identified as "Veterans."
Small Business – A small business is a business that is classified as "small" under the guidelines set forth by the Small Business Administration.
Disability-owned – A business that is at least 51% owned, managed and controlled by individual(s) with a disability.
Various certification programs allow businesses to be certified depending on their classification. The benefits of becoming a certified diverse supplier are numerous, including access to the database for prospective clients, networking opportunities, educational opportunities, and training and access to loan programs explicitly developed  for diversely owned businesses.
What is the cost of the program?
Businesses can participate in the program without cost. For OneAZ, we were able to utilize internal resources to create the database and make it available internally to all OneAZ business owners.
Are they all participants in the program local businesses? Are they members?
Most of the businesses registered are hyperlocal and we have begun to use them in some of our purchasing needs. Some are members and some are not. There is no requirement for a vendor to become a member.
Is there an intention to grow the program?
Absolutely, this program benefit OneAZ by allowing us to work with a larger pool of businesses and give back you our communities by supporting local businesses that employ local individuals and pay local taxes.
What have been some of your biggest obstacles?
The biggest challenge we have seen thus far is raising awareness of the program so business owners are eager to join. We are promoting the program through channels such as this, in local branches, and even recently we attended a Superbowl event with Business Connect to continue relationships with diverse vendors  involved in the upcoming Superbowl.
How does this tie into OneAZ's greater business plan?
One of the Credit Union's missions is to improve the lives of the members, associates, and communities we serve. At OneAZ, partnerships and relationships are important to us. Our Supplier Diversity Program is a way to strengthen relationships with business partners. It opens new opportunities for businesses that have traditionally been underserved and under-represented and provides them with opportunities when business needs arise.
Why is now the time to talk about it? What has changed?
We are excited to say our list is growing as of today we have 40 registered businesses. Now is the time to offer this list to other local credit unions  interested in providing opportunities to local businesses. It's just another way for us to give back to our communities. Our hope is that these credit unions would not only take advantage of the work we have already done but help us promote the registration page which in the end will benefit us all.
To learn more about how your credit union can create a Supplier Diversity Program or to support OneAz's registry, email Margaret Chamberlain at [email protected].
Posted in Arizona, Top Headlines.