What's Important to Credit Unions in the 118th Congress? Ryan Fitzgerald Reporting from D.C.
Posted by Ben Shuey on January 17, 2023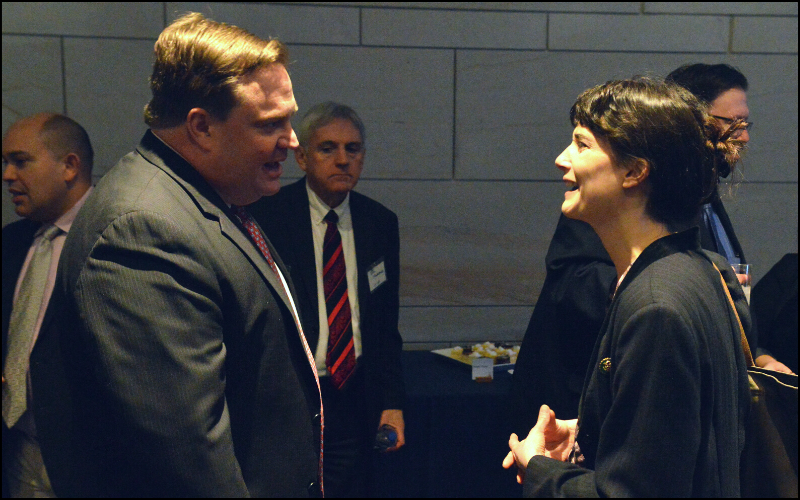 A Special On The Go by Ryan Fitzgerald, GoWest's SVP Federal Advocacy
The historic, yet delayed, kick off for the 118th Congress was most definitely a study in the partisan divide that we have in our Country, but the work to ensure our credit union movement stays strong and operationally flexible goes on with enthusiasm. The GoWest Advocacy team is excited to welcome and continue furthering our relationships with our thirty-six (36) Members of Congress and twelve (12) U.S. Senators, especially the nine freshman that were sworn in earlier this month.  
Members of the GoWest Advocacy team spent the "swearing-in" week earlier this month in Washington, DC, meeting with members and staff as they were being ushered in as the newest members of our nation's representative leadership. There has been a great deal of speculation on how the divided government will manage challenging issues that are on the horizon, with the slim Democratic majority in the U.S. Senate and a fragile Republican majority in the U.S. House of Representatives. What was apparent in the meetings and discussions that we had with members of our delegation is the strong and collective desire to get to work on behalf of the American people, though likely from differing perspectives.  
In the U.S. House of Representatives, newly sworn in Republican Speaker of the House, Kevin McCarthy (R-CA-20) has committed to a plan to reduce federal spending, return to the use of offsets on any new or expanded budgetary line item, and a push for normal order in the legislative, committee and especially the appropriations process. Some of the leading policy issues will include legislation to increase domestic oil and gas production, programs to curb inflation, a focus on immigration reform and an effort to move to a federally balanced budget. In addition, as we have already heard from Congressional leadership, there will be a significant use of the Congressional oversight and investigative powers, with hearings starting almost immediately.    
On the Senate side, the Democratic led body will be continuing to support the Biden Administration's priorities, protecting previously passed legislative priorities, working on protections for reproductive rights, climate change activities and also looking to provide economic programs to reduce inflation. In addition, we know that there will be significant time spent confirming federal judges to benches across the country, as they do not need House concurrence to perform this constitutionally outlined authority.    
As both legislative bodies work on individual priorities in a divided government, there will be a need for agreement and compromise on critical issues in very short order. These matters include raising the debt ceiling to manage our national debt service, continuing to fund the government into the new year to allow the appropriations process to occur, as well as continued military and financial support for Ukraine. All decisions and votes that will significantly test the narrow margins of the majority in each chamber.  
The GoWest Advocacy team is currently awaiting the final list of committee assignments for the 118th Congress, but were pleased to see a couple of sneak peek announcements for our freshman Members of Congress, including the appointment of Congressman Juan Ciscomani (R-AZ-6) to the House Appropriations Committee. We do know that we have several members of our delegation in powerful leadership positions on both sides of the aisle, which further calls on us to ensure our relationships are strong and active across our delegation.  
As the 118th Congress begins to take shape and eyes turn from organization to policy activities, we know there are several credit union priorities we will be discussing and poised to advocate on with our delegation in the coming year. Several of the priority issues may look familiar to you and some may be new, but with a clean legislative slate the new Congress will have to reintroduce all legislation that was not passed and signed into law by the end of 2022.  
Here is a small sampling of issues we know will be front and center for credit unions in this new year: 
Interchange

– we will be closely monitoring the Interchange issue and are working with CUNA to gather data and a better understanding of the impact of the original Interchange restrictions on debit as well as any new network requirements or caps that have been suggested for credit cards. We know this is a high priority for many of our members, and we are working to gather the data we need to be better prepared to aggressively defend and take additional steps to protect our credit unions and their members access to services in the Interchange debate.  

 
Data Privacy / Data Security

– with Washington State having the Chairs of both the House Energy and Commerce Committee in Congresswoman Cathy McMorris Rodgers (R-WA-5) and the Senate Committee on Commerce, Science, and Transportation in Senator Maria Cantwell (D-WA) we believe likely to have two very different approaches to data privacy and security legislation in the 118

th

Congress; however, we know we will see bills that will impact credit union operations in this area. We will be closely monitoring legislative developments and getting input from our members on key areas, as we work to find a fair and ubiquitous national standard for data privacy. 

 
Credit Union Act Modernization

– there are several areas we will be working to find operational flexibility for credit unions during the 118

th

Congress, including in these areas:

 

Increasing Loan Maturity Caps to keep up with recent state charter flexibility

 

Increasing the MBL Caps to allow additional business lending for CUs

 

Reduction in board meeting requirements

 

Option to utilize remote or virtual annual membership meetings

 

More flexibility in direct investments in technology and fintech companies

 

Protection of operational fees and the fight against CFPB's 'junk fee' misnomer

 

SAFE Banking

– we will continue to work diligently toward the safe and secure manner in which to fully bank legitimate cannabis businesses in the states where it is legal. 

CLF Expanded Borrowing and Modernization –

including allowing the use of Corporate agency for Small CUs to access the CLF and making the lending window more flexible to utilize. 




Digital Assets Regulation

– newly minted Chairman of the House Financial Services Committee, Patrick McHenry (R-NC-10) established a digital assets panel as part of his committee almost immediately after being sworn-in. We know stablecoins, cryptocurrencies and digital asset regulation will be something that will be worked on and likely passed during the 118

th

Congress, and we want to ensure credit unions are at the table and have the option to be a part of the programs and solutions in this sector of our industry going forward. Moreover, Senator Lummis (R-WY) is one of the leading sponsors of a digital assets regulation bill and she appears poised to ensure credit unions are a key part of this discussion going forward.  

 
We are excited to provide our members with a small glimpse on the federal advocacy work that is currently underway and some of the matters that may be on the horizon. We look forward to being with many of you as we tackle important Congressional issues and continue building relationships with our federal delegation during the CUNA GAC at the end of February. We will be closely monitoring these important issues and will be asking for your input and grassroots activity in the weeks and months ahead.
Posted in Advocacy News, GoWest Association, Top Headlines.