Columbia Credit Union Announces Steve Kenny's Retirement, Appoints Salvestrin Interim CEO
Posted by Ben Shuey on January 17, 2023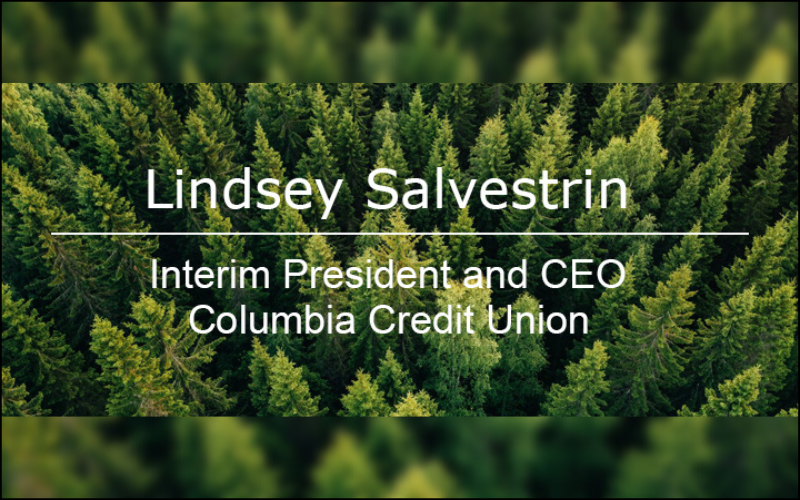 The Columbia Credit Union Board of Directors announced Steve Kenny's retirement resignation effective Jan. 9, 2023.
The Board held a special meeting to appoint the Interim President and CEO, selecting Columbia Credit Union's existing 20+ year industry veteran and EVP Chief Operating Officer, Lindsey Salvestrin. The Board has formed an ad hoc Executive Search Committee and will soon initiate a thoughtful recruitment process, expected to span several months.
Salvestrin grew up in Clark County, Washington, graduating from Hudson's Bay High School and earning a degree with honors in Human Resources from Western Washington University. Salvestrin's industry leadership ranges from facilities and the branch network to digital online and mobile banking, payments, and high-touch support services. Engaged and relatable, Salvestrin serves as a Board Director for Innovative Services Northwest. She and her husband enjoy busy family lives in Washougal with their two school-age children.
Columbia Credit Union Board Chair Joe Vance shares the Board's optimism and confidence in Columbia Credit Union's legacy of creating financial wellness, stating, "Columbia Credit Union is one of Clark County's largest employers, is rock-solid financially and maintains a reputation for reliable community service. As a Peter Barron Stark Companies Best Workplace recipient, the Board anticipates best-in-class leadership talent to apply for consideration as Columbia Credit Union's next President and CEO. We look forward to those conversations." Vance further shared, "Lindsey and Columbia Credit Union's Senior Leadership Team have the Board's full support and confidence as they continue with our people and community-centric strategic direction. We wish Steve the best in his retirement plans and thank him for his years of service to Columbia Credit Union's membership and their communities."
Once posted, interested candidates may apply on Columbia Credit Union's website www.columbiacu.org.
Posted in Regional Member News.