Six Portland Credit Unions Unite to Address Homeownership Gap in Latinx and BIPOC Communities with $75K Donation
Posted by Andrew Kobialka on December 13, 2022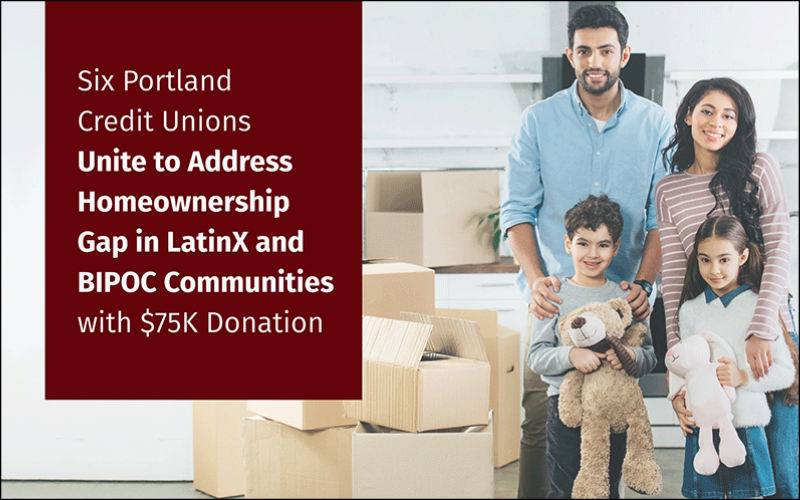 Throughout Oregon, working families aren't earning enough to purchase a home. The average home cost is more than $500,000, requiring at least $20,000 for a down payment. Because the overall cost of living is well above the national average, saving for that down payment can seem impossible.
While there is no easy solution, six Portland-area credit unions are helping to pave the way for future homeowners by investing in a soon-to-be-launched lending program designed for first-time Black, Indigenous, and people of color (BIPOC) homebuyers from Hacienda Community Development Corporation (Hacienda CDC). The $75,000 donation was made jointly by Advantis Credit Union, Consolidated Community Credit Union, OnPoint Community Credit Union, Point West Credit Union, Rivermark Community Credit Union, and Unitus Community Credit Union.
The credit union partners' donations will help the future program support homebuyers with homebuyer education and 100% financing at an affordable cost. The program will utilize a tried-and-true 80/20 lending model that eliminates the need for a down payment and private mortgage insurance, making it possible for households earning up to 120% of area median income to purchase a home.
Andrew Emerson, VP of mortgage services at OnPoint, said, "OnPoint Community Credit Union invests in organizations like Hacienda CDC because we know their programs and services are incredibly valuable to low-income individuals and families, especially our underserved, BIPOC and Latinx communities. This new lending program is a perfect example. As a preferred lender and a financial backer, we are proud to support this effort aimed at bringing the dream of homeownership to members of our community who are currently left out."
Jason Werts, CEO at Advantis, added, "Both Hacienda CDC and Advantis share in a commitment to make our communities stronger. As part of our ongoing partnership with Hacienda CDC, we are honored to be able to support and partner in this new lending program."
"Our soon-to-launch lending program will be possible thanks to strong partnerships with local lenders, and we are thrilled that our local credit unions are stepping up to join Hacienda CDC in this effort to make homeownership attainable," said Juan Campos, Hacienda's director of economic opportunity.
Beyond this new lending program for first-time homebuyers, these credit union partners and Hacienda CDC are helping to combat Oregon's affordable housing crisis in a number of ways.
Affordable housing has been the foundation of Hacienda CDC's mission for over 30 years. Not only do they assist first-time and current homeowners, but their ten affordable housing communities provide safe, stable homes for over 2,000 individuals. And, because they are a HUD-approved housing counseling agency, they provide group education and one-on-one coaching along with other holistic programming for residents and the broader community.
Credit unions consistently come together, implementing solutions and products that make housing more accessible to community members. Several Portland-area credit unions are certified Community Development Financial Institutions (CDFI) and can focus on serving low- to moderate-income members of the community who have been largely cut off from traditional financial services. They offer first-time homebuyer savings accounts, ITIN lending, ADU loans, credit builder loans, and immigration/citizenship loans, as well as financial coaching and events centered around homeownership preparedness.
"Homeownership is one of the safest and quickest ways to build wealth for individuals and families. By supporting Hacienda CDC's homeownership initiatives, we're creating lifelong, wealth-building opportunities for our local Hispanic community, regardless of citizenship status," said Amy Nelson, CEO of Point West Credit Union.
To learn how to help support this effort as it launches in the Portland metropolitan area and expands across Oregon, contact Juan Campos, Director of Economic Opportunity at Hacienda CDC.
Posted in Community Impact, Oregon, Top Headlines.