Harborstone Credit Union Opens New Branch in Federal Way Community
Posted by Andrew Kobialka on December 12, 2022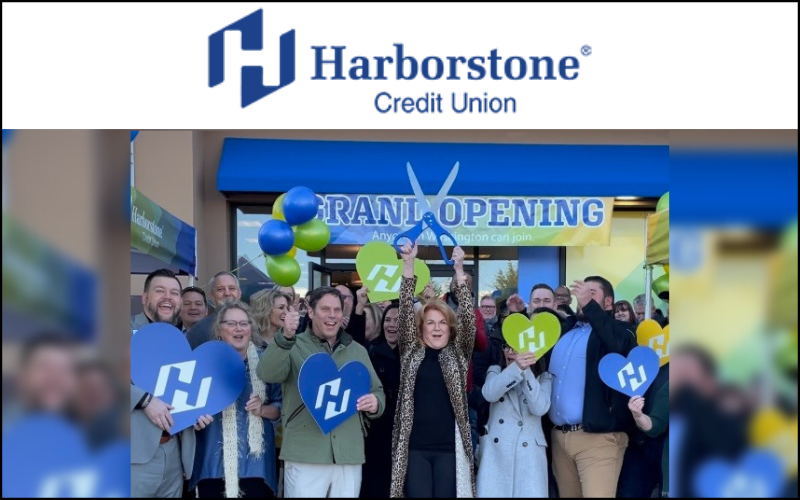 "I work for happy tears," said Jayde, Habortstone Credit Union branch manager, "Seeing a single mom go from piles of debt to purchasing her first home is just one example of why I come to work."
Located at the Federal Way Commons, Harborstone Credit Union is committed to bringing a heart of service to this diverse Washington community through a new branch opening. Harborstone's mission is to empower individuals with the right financial tools and resources they need to be successful.
Serving both individuals and business members, Jayde and his team bring decades of financial expertise to the Federal Way community. "I hope each person who enters our branch feels our compassion and commitment to help, and trusts they can speak honestly about their financial situation so that we can best support them on their journey."
On Saturday, Dec. 3, Federal Way Mayor Jim Ferrell, Greater Federal Way Chamber of Commerce President and CEO, Rebecca Martin, and Junior Achievement CEO & President, Natalie Vega O'Neil, attended the branch's ribbon-cutting ceremony to welcome Harborstone into the Federal Way community.
"It is so great to see this investment in Federal Way and it's amazing that you already have 4,000 members that live right here," said Ferrell. "As a father of a 15-year-old now, we're thinking about getting our son his first bank account and talking about how to save and do things that are really so fundamental to people in their growth and their lives; key turning points. We all remember our first car, our first home, the major investments, college, and the things that make up the stepping stones of our lives. And they happen here, with partnerships, love, and community."
Also in attendance was Lisa Stirgus, chief experience officer of Harborstone.
"We believe it is our obligation to help create equity in the communities we serve," Lisa said. "Harborstone employs Money Management Coaches (MMCs) who educate their members, regardless of income bracket. "We help empower members with financial know-how so they can make the best decisions possible to support their own unique vision of prosperity."
At the core of Harborstone's belief is serving as a fabric of the community, which is why the new branch will include conference space for hosting community meetings, financial trainings, and more. This is yet another way to bring people together to encourage cohesion and dialogue. "We're excited to provide a variety of workshops for both our members and the community," says Lisa, "We'll teach various topics, aimed to help people navigate their real-life money decisions, from buying a car to purchasing a home, and beyond."
Harborstone in the Community
Harborstone's new President & CEO, Geoff Bullock also shared a few words at the ribbon-cutting to express our gratitude for the opportunity to become part of this community, "We have felt an incredible warmth here in this area that's really remarkable, even in a short amount of time; it feels like we're home. We started more than sixty years ago with a couple dozen airmen on McChord Air Force Base, who said, 'Let's solve some financial problems.' Fast forward to today, and that couple dozen has become more than 85,000 members and almost $2 billion in assets. Harborstone is one of the best kept secrets in the Puget Sound area and that didn't happen by accident. It happened because we have some special people here, and we're so excited to bring that uniqueness to Federal Way."
At its core, Harborstone believes in advocacy for financial literacy. "We look forward to supporting the Federal Way school district, and charitable organization, Fusion, with opportunities to educate young people and the historically marginalized to achieve financial aptitude," said Jayde. "And hopefully I'll get to umpire a little league baseball game now and then."
Posted in Regional Member News, Washington.