Arizona Young Professionals Applications are Open!
Posted by Andrew Kobialka on November 29, 2022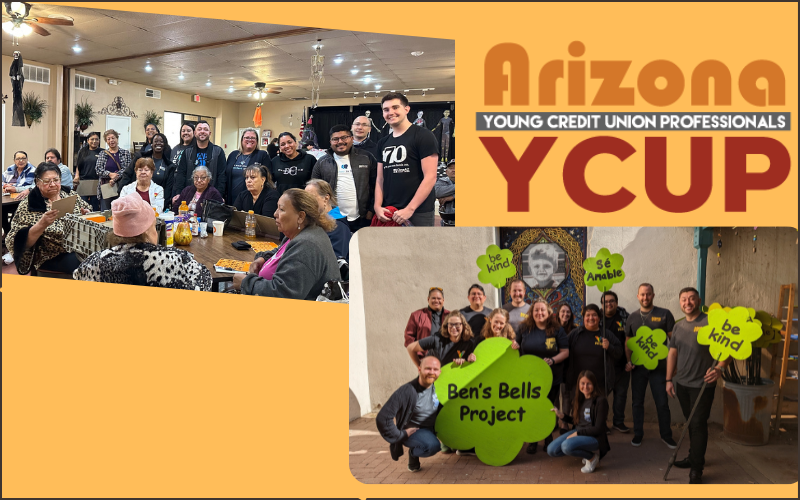 The Arizona Young Credit Union Professionals put together three community service projects in different regions in the state over the last several weeks.
Applications to join the AZYCUP steering committee are open, and they are looking for passionate young credit union professionals to join. This committee plans quarterly meetups with young credit union professionals across the state.
Check out some of their latest community service projects and apply today!
Chicanos Por La Causa
The volunteer event at Chicanos Por La Causa in Phoenix was a success! AZYCUP had 18 total participants representing OneAZ, AZ Financial, Vantage West, and TruWest Credit Unions. The team helped prep lunch for seniors, did nails and facials, called Bingo numbers, played Lotería, and unload bins in prep for their clothing drive the next day. People started lining up at 5 a.m. and had 10 minutes to grab what they can!
About CPCL: Chicanos Por La Causa (CPLC) formed in 1969 to fight discrimination against the Mexican American community. Inspired by Dolores Huerta and Cesar Chavez, they advocated for equity in education, politics, and labor conditions. Today, CPLC provides services to people of all backgrounds while honoring their Mexican-American roots.
Ben's Bells
In Tucson, 17 volunteers from Vantage West, OneAZ, Landings, and First Credit Unions got creative at Ben's Bells. The team spent the morning making clay bells that will soon be fired, painted, glazed, and turned into bead strings for the Ben's Bells gift shop. Ben's Bells is celebrating its 20th anniversary this year!
About Ben's Bells: In 2002, Jeannette Maré's life changed forever when her son, Ben, died suddenly just before his third birthday. In the months following his death, Jeannette and her friends and family began making ceramic wind chimes – the first Ben's Bells – in her backyard studio. Being surrounded by supportive people and working with clay toward a common goal was therapeutic for her family and their healing.
During this time, Jeannette learned how a small act of kindness could make such a difference in a person's life, no matter their background. She wanted to find a way to teach others about the impact of intentional acts of kindness, and so the idea for the bell came to life. Jeannette and her friends made four hundred bells and randomly distributed them in the Tucson community on the first anniversary of Ben's death. Through these bells, she had found a way to pay forward the kindnesses that had been shown to her.
This started a powerful ripple effect. People who found the bells shared their own stories of grief and healing and hope. The local newspaper printed the story on the front page. School groups and businesses and individuals started calling to see how they could get involved and soon, thousands of Tucsonans were helping to craft Ben's Bells.
Since 2003, Ben's Bells has been operating as a nonprofit, growing kindness education programs and continuing to distribute thousands of Bells every year. Today Bells are found all over the world and their free kindness education programming has reached over 1.6 million students.
Youth On Their Own
Across the state, volunteers helped write dozens of notes to students in the Youth On Their Own program to encourage them in their education journey and beyond. Several AZYCUP committee members dropped off a big packet of notes with the YOTO team and were told how much the students appreciate these kind words from their community. Many students keep the notes for continued inspiration and encouragement.
About YOTO: Youth On Their Own (YOTO) is a dropout prevention program that supports the high school graduation and continued success of youth experiencing homelessness in Pima County.
Posted in Arizona, Top Headlines.