Three GoWest Credit Unions Named CUNA 2022 National Award Winners
Posted by Andrew Kobialka on November 15, 2022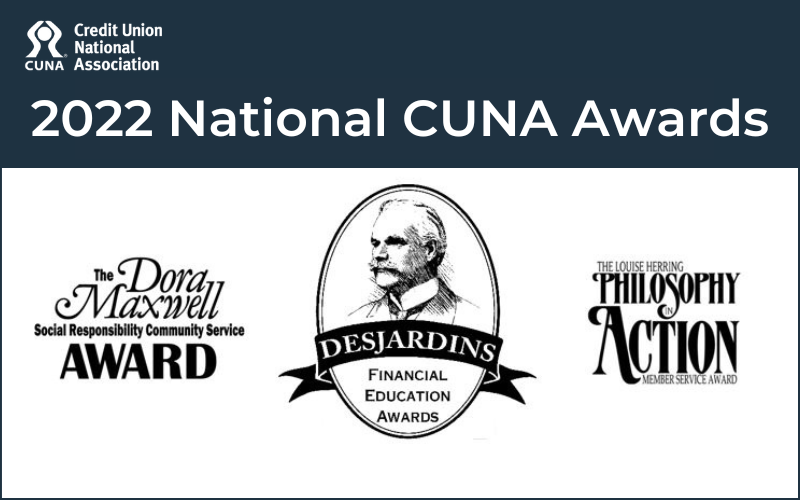 So much of what credit unions do is lead with a servant's heart and a "full steam ahead" approach to the Movement's "People Helping People" cornerstone.
And it works — countless members across the country have personally been impacted by these not-for-profit cooperatives as they partner with communities to fill local needs through donations, charitable events, volunteering, and of course, life-empowering financial services.
Credit Union National Association's (CUNA) National Awards Committee announced the 2022 recipients of the Dora Maxwell Social Responsibility Community Service Award, Louise Herring Philosophy-in-Action Member Service Award, and Desjardins Awards for Financial Education. State Leagues across the nation select winners in various asset sizes, and these League winners are then considered for the national awards.
"Congratulations to this year's winners for their amazing work promoting financial well-being for all and advancing the communities they serve. These leaders and organizations truly live the credit union difference every day to benefit their members," said CUNA President and CEO Jim Nussle. "Each winner demonstrated how they live our 'people helping people' motto in new and exciting ways I hope inspires everyone in our movement."
We are proud that three GoWest Credit Unions have been recognized as winners for their impactful work in the following categories:
Dora Maxwell Social Responsibility Community Service Awards
These awards honor credit unions for community impact programs.
1st Place, Atlantic City Federal Credit Union, Lander, Wyoming ($50-$250 million in assets category) — In September and December of 2021, ACFCU Union along with the partnership of Wyoming First Lady Jennie Gordon's Wyoming Hunger Initiative, Legacy MWCUA, private donors, and 12 other Wyoming Credit Unions paid off 3,949 individual student lunch debts totaling over $109,600 across 28 school districts and 19 counties in the State.
1st Place, Clackamas Federal Credit Union, Milwaukie, Oregon ($250 million-$1 billion in assets category) — Over the past several years, Clackamas has worked to create inclusion and vocational, recreational, and personal development opportunities for individuals with cognitive disabilities (i.e. diverse abilities) through Special Olympics Oregon and through a partnership with Exceed Enterprises.
Desjardins Adult Financial Education Awards
This award honors leadership within the Credit Union Movement on behalf of adult financial literacy.
3rd Place, SnoCope Credit Union, Everett, Washington ($50-$250 million in assets category) — The credit union's virtual Adult Financial Wellness Seminar program became a huge success as it offered flexible learning that was free to its members, Snohomish County and Community Transit Employees, and other employer groups and to the surrounding community.
Congratulations to all three GoWest member credit unions for these well-deserved national CUNA Awards! View the full list of winners here.
Posted in Top Headlines, Washington, Wyoming.