Save the Date for MAXX 2023!
Posted by Andrew Kobialka on November 15, 2022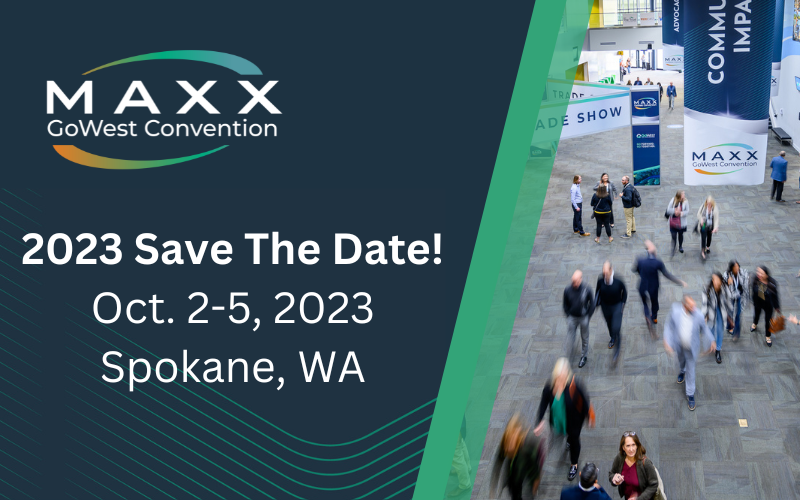 MAXX 2022 certainly "raised the bar" in the level of enthusiasm and engagement from attendees.
"Great introduction to GoWest! What power! What synergy! It's incredible," said Mark Lodine, commenting on the energy of the 1,000 attendees. Lodine serves on the Board of Horizon Credit Union and accompanied Horizon leadership to MAXX.
You don't want to miss MAXX 2023 next Oct. 2-5! Save the Date by clicking here.
Work is already underway behind the scenes at GoWest to build on that energy and create an unforgettable MAXX 2023. In the second year of a two-year contractual commitment to be the host city for MAXX, Spokane, WA, will once again roll out the red carpet for professionals across the industry, including technology, finance, talent development, advocacy, compliance, business strategy, and more.
John Paul McGee, CEO of EvergreenDIRECT CU, says Spokane continues to be a great location to bring together credit union professionals from across GoWest's six member states: "Spokane has a great vibe. It's simply the best place to meet people and collaborate with others!"
Speakers, break-out sessions, and meetings are being considered and designed, based on feedback from attendees to MAXX 2022 to meet and exceed expectations. As Chris Loseth, P1FCU President and CEO, commented: "The sessions were well designed for a lot of different professionals and for Board members, especially this year with different classes for the right folks. We had our SVP, CFO, COO and CIO, and chief data officer, and they all went to different classes."
Why mark your calendar TODAY for MAXX 2023? Take it from MAXX 2022 attendee, Marti Gwin, VP of Compliance at Wauna Credit Union: "I love the cooperative spirit. We can talk shop and share ideas, we are very collaborative, and MAXX is a reminder of that collaborative process. It's a great reminder of why we at credit unions are so unique!"
Posted in MAXX Annual Convention, Top Headlines.