MAXX Trade Show: Offering Insights, Resources, Opportunities, and Partnerships
Posted by Andrew Kobialka on November 8, 2022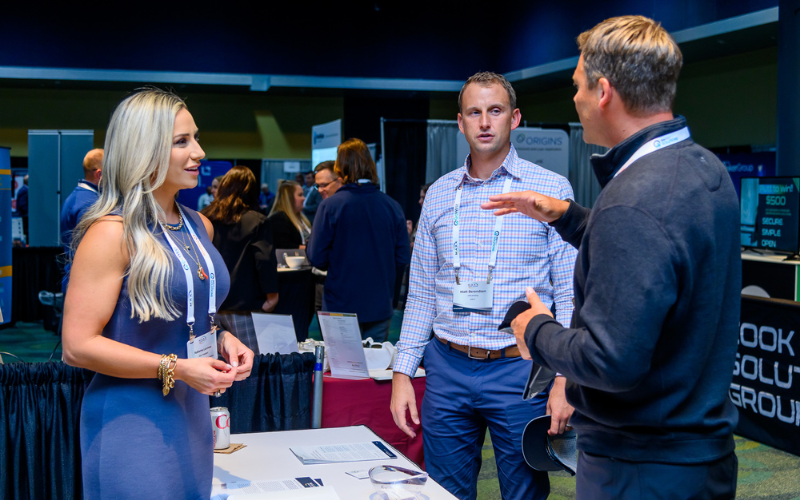 While the traditional exhibitor giveaways and promotional items were plentiful at the MAXX 2022 trade show, the vibe was far from traditional.
"Troy Stang's forward-focused messaging resonated throughout the trade show, the breakout sessions, and the whole event," says Donna Dyer, senior manager, CUNA Mutual. She was referencing Stang's call for credit unions to go forward together to "set the course in the history of the American financial system (and) blaze new trails as we shape the tenor of our times."
"This is key to bringing everyone together to truly leverage credit unions at the intersection of the future of financial services and mainstream," says Dyer. "The way in which the credit unions from all the states seemed to come together so effortlessly was truly amazing and energizing."
Megan Petersen, digital marketing manager at Canopy Credit Union, put it simply: "The problems of today are simply too complex to solve on your own." That's why her colleague, Megan Shover, Canopy vice president of culture and marketing, was encouraged by the exhibitors she met. "I'm excited about the great conversations I was able to have with vendors at the trade show. The technology and innovation that's out there, how rapidly it's happening ­– I got some good resources to reach out to."
From keynote speakers like Sultan Meghji, who stressed that innovation and technology must be tied into defined business operational goals, to breakout sessions on data analytics, cybersecurity, and cryptocurrency – attendees and exhibitors had plenty to talk about.
"What I lean into is the fact that digital-first should be a top priority," says Amber Dolphin King, regional vice president, Horizon Credit Union. "This conference helps get more stakeholder buy-in and clarifies the communication, so when we go to the Board, we have a clear message. For example, the blockchain session was phenomenal. Credit unions haven't embraced technology as quickly as they should. I hope to stay relevant. We take that one big message home."
But before attendees brought that message home, Rick Ronchak, senior national sales executive for Gowest Solutions partner, Trellance reflected on this the difference in this particular tradeshow.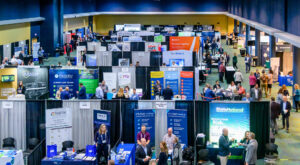 "People are focused. I've had really good quality conversations," said Ronchak . "This was one of the best conferences I've been to. With the economy the way it is, people are looking for insights. It's a different environment than they've dealt with before, and data is going to play a big part in building a strategy and a member experience that is sustainable. The advantage credit unions have is that they are collaborative in an ecosystem of knowledge and best practices and sharing that is so unique.  Even community banks don't do that. It's a collective collaboration to provide sustainable strategies for each other, so they can continue this journey. As a vendor, I'm walking away very excited about my follow-ups with my customers."
Eric Woodard, vice president of operations at Northern Colorado Credit Union, saw the trade show as an opportunity to explore the diverse exhibitors' offerings. "We're a smaller credit union, so we can't quite invest in the level of technology that Sultan Meghji was talking about.  But we can partner with vendors. We've done collaborative things with other credit unions before, so maybe we can consider teaming up on this issue. People helping people. Credit unions helping credit unions. That's what it's all about."
Chris Sachse, CEO and founder of Think|Stack, sensed tremendous enthusiasm and new energy from credit union leaders who sought his insights and recommendations: "We are talking to them about the opportunities they have right now. They have such a unique opportunity with the relationships they already have with their membership and their understanding of their membership. There's never been a time when the technology to compete with fintechs and large banks has been more affordable and more accessible. Credit unions are stronger because they know their members, they're in their communities, and younger people want to do business with organizations that are community oriented and minded. So if credit unions can catch up on the tech side they have all the other components they need."
The crowd around GoWest Solutions partner, CRMNEXT's, trade show booth demonstrated attendees' hunger for new technology insights and new ways of learning outside the classroom.
"The trade show event demonstrated how GoWest understands the needs of credit union members and technology vendors," says Nick Del Francia, CRMNEXT's director of sales. "At CRMNEXT, we love to work hard and play hard, and the MAXX event perfectly caters to just that. It was great to see how our Diabolical Cornhole game was so well received and hit home with attendees in demonstrating how our solution can help them see member data in "one-shot" compared to the "Alt+Tab" method used today. While we entertained attendees, we were also creating opportunities for learning and lasting relationships."
The MAXX Trade Show was fun, insightful, and revealed opportunities to meet credit union's needs for today and tomorrow.
Be sure to revisit the trade show experience from MAXX 2022, and easily access trade show exhibitors through the GoWest Events App. You can download the app on your smartphone, or access the app via your desktop. Please reach out to the GoWest Solutions team for more information.
Posted in Events, GoWest Solutions, MAXX Annual Convention, Top Headlines.