Credit Unions Raise $1.1 Million for Children's Miracle Network Hospitals During MAXX Convention
Posted by Andrew Kobialka on November 8, 2022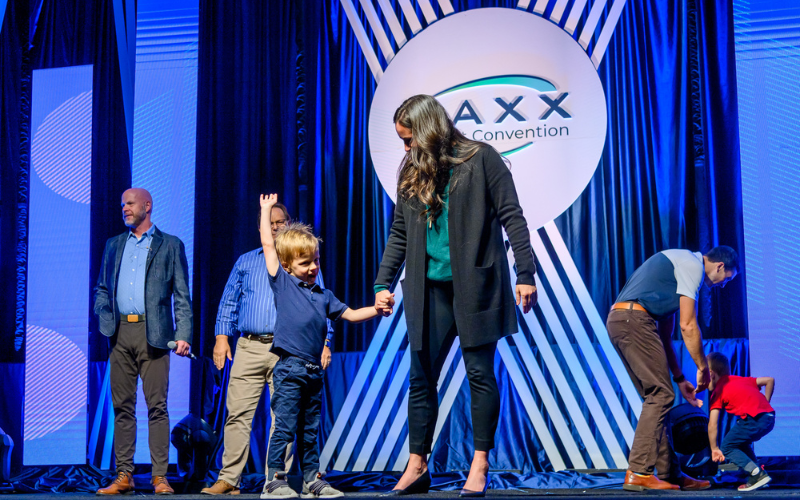 Credit union leaders and business solutions partners collaborated to raise $1.1 million for 11 Children's Miracle Network Hospitals during the "Disco Ball" Credit Unions for Kids auction in Spokane last week. Credit Unions for Kids, now the national Credit Union Movement's "charity of choice," was founded by credit unions in the GoWest region in 1986, and the auction is an annual tradition at the MAXX Convention.
The disco theme inspired donors to bust out their best moves for the kids, as they bid competitively on electric cars for the hospitals. Some of the cars brought in bids as high as $50,000, and several car bids were matched. Luxury travel packages and opportunities to give cash amounts ranging from $25 to $25,000 also resulted in aggressive bid-paddle-raising to reach the $1.1 million total.
"Credit unions in the GoWest region do a lot for CMN hospitals year around, but the annual auction during MAXX is when they collaborate to really raise the roof," said GoWest President and CEO Troy Stang. "Every year they're determined to shatter fundraising records, so the bar is set high for 2023."
Attendees adored Jack and Liam Kelsey, four-and-a-half-year-old twins who served as Miracle Children for the auction. They were born prematurely in 2017 at Sacred Heart Children's Hospital in Spokane. After 78-days of specialized treatment in the hospital's Neonatal Intensive Care Unit, the boys came home healthy, and today are thriving, as evidenced in the "Twinterviews" video they did with Stang. The boys' parents, Mike and Corrina Kelsey, told their story at the auction and shared the joyful news that Jack and Liam now have a healthy baby brother.
The Kelsey family returned to the MAXX mainstage Thursday to help reveal the fundraising total. They were joined by GoWest Board Chair Jeff Adams, President and CEO of Spokane-based Horizon Credit Union, and GoWest Board Vice Chair Todd Marksberry, President and CEO of Canvas Credit Union in Lone Tree, CO.
"You folks outdid yourselves last night, and I am in awe," Marksberry said.
Adams added, "I am proud. Proud to be part of the Credit Union Movement, and proud of your generosity. Your support makes miracles happen."
Get ready to top this year's total at the 2023 Credit Unions for Kids auction, taking place during MAXX Convention Oct. 2-5 in Spokane.
Posted in CU4Kids, MAXX Annual Convention, Top Headlines.