BECU Employees Assemble 27,000 Care Kits for Nonprofit Partners
Posted by Andrew Kobialka on November 8, 2022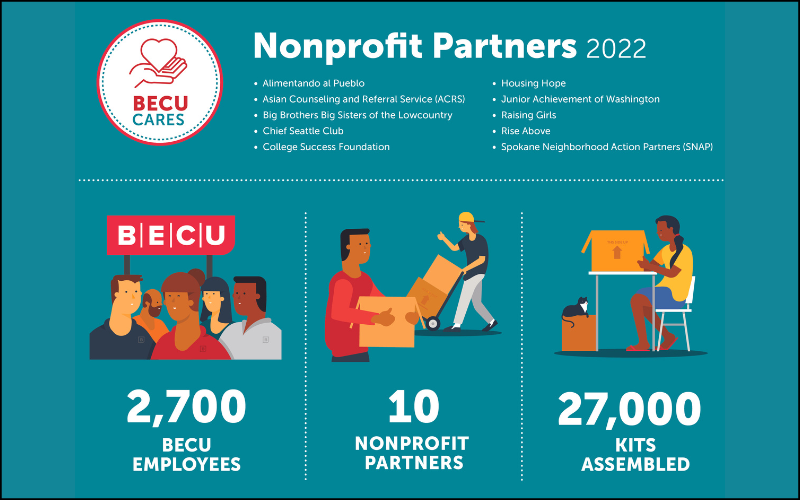 As part of its commitment to support the communities where its members live, work, and play, BECU, based in Seattle, Washington, hosted its eighth annual BECU Cares Day last month. The credit union closed in honor of Indigenous Peoples' Day and nearly 2,700 employees packed more than 27,000 care kits for 10 nonprofit partners that will be distributed amongst the communities they serve.
"As a purpose-driven credit union, BECU Cares Day embodies our employees' enthusiasm for giving back to those making a significant difference in our communities," said Benson Porter, BECU's president and chief executive officer. "COVID-19 may have changed the way we show up, but our commitment to the credit union industry's philosophy of 'people helping people' is as strong as ever. This year we are lending a hand to organizations who support community members across different intersections, from Native youth and educators in the Pacific Northwest to students in Charleston and families in Spokane."
This year, care packages will benefit 10 of BECU's philanthropic partners located in Washington and South Carolina, including:
Alimentando al Pueblo: House cleaning supply kits will be provided to Latinx community members in King County.
Asian Counseling and Referral Service (ACRS): Personal care kits will be distributed to Asian American and Pacific Islanders and other underserved communities in King, Pierce, and Snohomish counties.
Big Brothers Big Sisters of the Lowcountry: New match activity kits will be provided to support one-to-one mentoring relationships for Bigs & Littles in Charleston, S.C.
Chief Seattle Club: Personal care kits will go to support American Indian and Alaska Native people in King County, many of whom are facing homelessness.
College Success Foundation: School supplies kits will be deployed to underserved high school students in nine Washington public school districts.
Housing Hope: House cleaning supply kits will be provided to individuals and families in Snohomish County working to break the cycle of homelessness.
Junior Achievement of Washington: Teacher gratitude and secondary school supplies kits will be distributed to students and teachers across Washington state.
Raising Girls: Personal care kits will be shared with girls in Pierce County and Seattle's South Sound who do not have access to daily care and hygiene products.
Rise Above: School supplies kits will be provided to Native youth in Washington state, spanning across all grade levels.
Spokane Neighborhood Action Partners (SNAP): Personal care kits will go to families in Spokane, Wash. who are living in poverty.
BECU employees assembled kits remotely from home, staying connected with their work teams digitally through video chat. The kits vary by each partner organization and included items to support personal care, education, cleaning, and more.
Posted in Regional Member News, Washington.