GoWest Foundation Shines a Light on Community Impact at MAXX 2022
Posted by Andrew Kobialka on November 2, 2022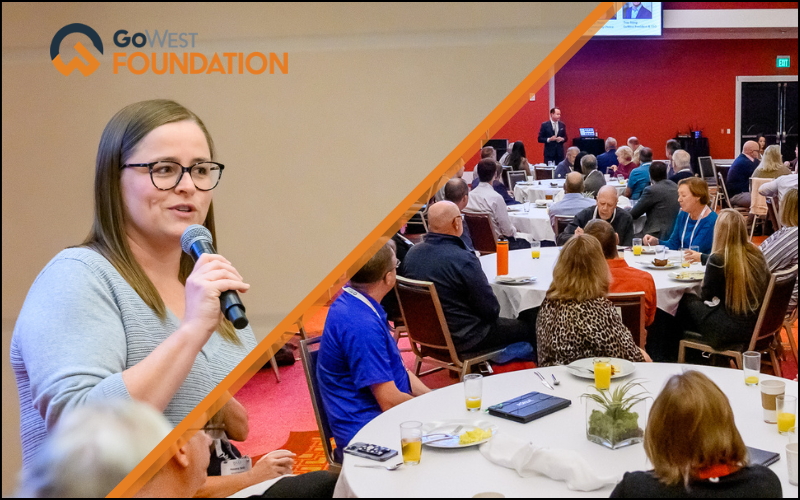 Credit union representatives and community leaders reconnected over coffee and bacon this week in Spokane, Washington, to celebrate GoWest Foundation donors and how their support is making a difference across GoWest's six-state footprint.
Attendees celebrated the work Idaho credit unions have done to provide financial services to rural communities and Wyoming credit unions' achievement in eliminating student lunch debt for over 3,000 children in the state.
Gene Pelham, Chair of the GoWest Foundation Board of Directors, shared his experience with the powerful impact that comes when credit unions and the Foundation partner together.
"As the recently retired CEO of a credit union, I have the unique ability to choose where I commit my time and energy. I choose the GoWest Foundation and am honored to serve as the Chair of the Board. Powered by a network of credit unions across our six-state region the GoWest Foundation serves as a catalyst for credit unions to seize the opportunities for meaningful change in the communities they serve."
Attendees received an overview of the Foundation's initiatives and commitment to continued projects with both credit union and community partners, including the collaboration between GoWest Foundation, Spokane credit unions, and the Spokane Low Income Housing Consortium leading to the establishment of Washington's first-ever land bank, making property available for low-income housing.
"I cannot think of a project I have worked on in the last 30 years that so clearly shows that together we are stronger and can get more done," said Ben Stuckart, Executive Director of the Spokane Low Income Housing Consortium. "I am thankful for all of you out there supporting the GoWest Foundation, and know that what you do makes a difference."
The GoWest Foundation breakfast was sponsored by Zest AI, whose CEO Mike de Vere reinforced the alignment of the company's mission with the collaborative work being done by credit unions to enhance the financial wellbeing of members and build communities.
The GoWest Foundation works with credit unions and community partners throughout Arizona, Colorado, Idaho, Oregon, Washington, and Wyoming to provide solutions to pressing issues impacting the financial health of the people and communities they serve. If you are interested in learning about how the Foundation can support your community impact efforts, please contact us at [email protected].
Posted in GoWest Foundation, MAXX Annual Convention, Top Headlines.