Credit Union Leaders Inspired to Take Action to Set the Tenor of the Times
Posted by Andrew Kobialka on November 2, 2022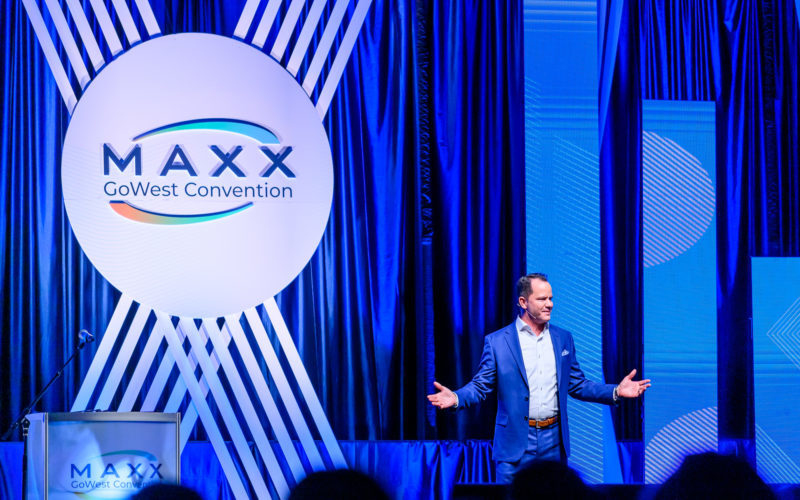 Launching its first combined MAXX Convention in Spokane, Washington, GoWest brought together more than 1,000 professionals serving credit unions and their members across six western states. In her welcome, emcee Christine Cashen noted that each represented state had its own unique history (and nickname!), including Arizona (the Grand Canyon State); Colorado (the Centennial State); Idaho (the Gem State); Oregon (the Beaver State); Washington (the Evergreen State); and Wyoming (the Equality State).
MAXX brought them together to celebrate their common mission — a shared commitment to the "People Helping People" credit union credo.
"You are the founders of a newly united coalition that will chart the course for the credit union movement for generations to come," said Cashen.
Her remarks paved the way for a visionary keynote speech by GoWest President and CEO Troy Stang.
"Collectively, we can become agents of change," said Stang. "Together, we can influence public policy, impact communities by generating access to capital needed by members, accelerate positive change and literally shape the tenor of our times. We can shape the arc of the curve, by reflecting on how we want to live and how we want that lived experience to be shared."
Stang noted the daunting issues facing all financial institutions, including recovery from the pandemic, inflation, interest rates, the rapidly growing demand for digital forward delivery of services, supply chain, talent development issues, and the growing wealth gap in communities throughout the west.
Cameron Smith, VP of Strategic Partnerships and Resources for GoWest Solutions, added: "From Apple to Amazon, to thousands of fintechs and startups, the competition in the marketplace is growing and evolving. But so is the opportunity for credit unions to meet these challenges head-on, and use their collective experience, connections, and partnerships to innovate and better serve members."
Stang offered strong words of praise, encouragement, and confidence in the collective strength of credit unions represented in GoWest.
"We are called to mobilize our collective energy for the common good," he said. "Our culture makes us unique. It is our DNA. We are for the people, by the people, and accountable to the people. That makes us uniquely positioned to define the culture in which our people can thrive. I believe that when there is a desire to better our communities, credit unions are best positioned to be the change agents that drive meaningful results."
The vision resonated with attendees.
"To me, the tenor of our times means doubling down on our purpose, making sure we are truly partnering with individuals and the communities we serve toward their financial wellbeing," said Laura Hansen, senior VP of Rogue Credit Union.  "And when times are tough, that's when it matters most."
"There's always strength in numbers," said Ynette Gibbs, President & CEO, Newrizons FCU. "And when you've got that much heart in one room, and you've got the collaboration, it gives you a much better foundation for whatever you think is impossible to become more likely possible."
During the three-day MAXX convention, credit union professionals were provided with countless opportunities to share best practices, learn from experts in the industry, envision how their credit union members can benefit from advances in financial technology, discuss important policy and political developments requiring focused advocacy efforts at local, state, and national levels, and demonstrate how credit unions are successfully building and strengthening communities.
"Let's go forward and let's go together to set the course in the history of the American financial system," Stang told the crowd. "Let's collectively strengthen our credit unions' role in building communities for the next generation. Now is the time to blaze new trails as we shape the tenor of our times."
Posted in MAXX Annual Convention, Top Headlines.