OnPoint Community Credit Union Celebrates 90 Years and 500,000 Members with $500 Giveaways
Posted by Andrew Kobialka on November 1, 2022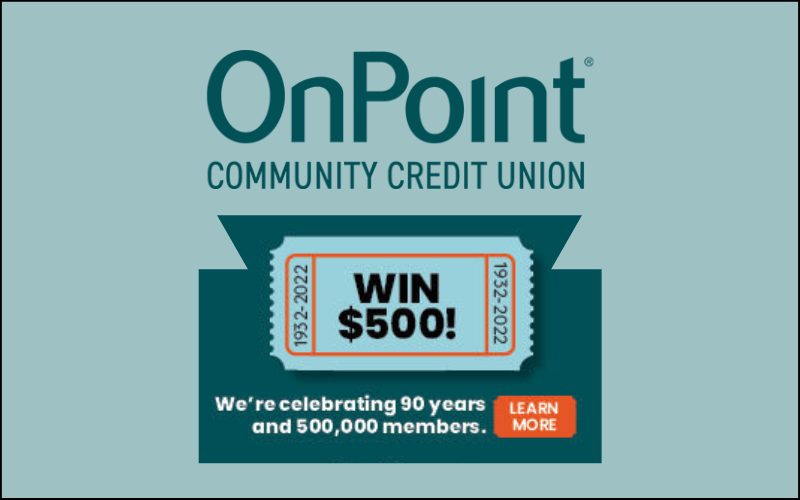 OnPoint Community Credit Union, based in Portland, Oregon, is celebrating 90 years of service and 500,000 members this month with giveaways and prizes. In recognition of these milestones, OnPoint launched a special sweepstakes today for the community to enter for a chance to win a $500 saving deposit.* Ninety winners' names will be drawn at the end of the day on Nov. 30. Branch staff will also give away OnPoint branded merchandise throughout the month.
"As a financial cooperative, we exist to serve our members and improve the communities we call home," said Rob Stuart, president and CEO of OnPoint. "Reaching these milestones is a proud moment we share with each of our members, employees, and community partners. We look forward to the next 90 years of serving our community and welcoming more members to the OnPoint family."
A longtime OnPoint member is Rhonda Anderson, who joined in 2001. Anderson underwent a hip replacement five years ago and was subsequently forced to retire. She was also almost victim to an IRS scam — until she contacted an OnPoint financial advisor, who calmed her fears and set her on a path to protecting her finances while navigating medical costs. Now the Mill Plain OnPoint Branch is a regular stop for Anderson to bring in her grandchildren, drop off change and catch up with her friends behind the counter.
"I trust them," Anderson said. "I can't wait to wave at my good friends, and I feel like I've known them my entire life. They are like family and they have my best interest at heart."
For Anderson, the work OnPoint put in to make sure information was delivered to her during her rehabilitation, and help her manage her money before she was able to use Social Security is something she'll never forget. They've become a partner to her during this phase of life.
"Peace of mind is what comes to mind in being an OnPoint member," Anderson said. "It's a happy place for me."
Vast member-driven growth
Founded as the original Portland Teachers Credit Union by 16 schoolteachers in 1932, OnPoint has quickly grown into one of the largest credit unions serving Oregon and Southwest Washington. OnPoint's membership has increased exponentially over the last 10 years – up 102% since 2012.
To keep pace with its expanding membership, OnPoint embarked upon one of the largest branch expansions of any credit union in the country in 2021. The reason for the expansion was simple – members wanted more accessibility so they could choose to do their banking online or in person within a reasonable distance from their homes. OnPoint heard the call and responded.
OnPoint is committed to meeting the needs of its community as it continues to grow because of its members. Finding both meaningful and fun ways to give back to its members, like this sweepstakes, are small gestures of gratitude offered in recognition of its members' many years of loyal partnership.
Posted in Oregon, Regional Member News.