Two Families Moving into New, Affordable Homes with Help from Habitat for Humanity and Credit Union Volunteers
Posted by Andrew Kobialka on October 24, 2022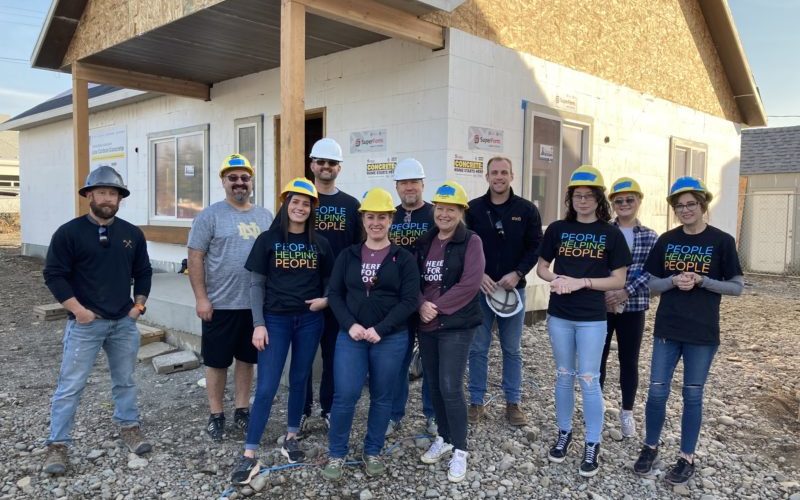 Two families will soon purchase their new homes in East Central Spokane, Washington, in partnership with Habitat for Humanity and volunteer support from 19 local credit unions. Taking steps to address the housing crisis, hundreds of credit union volunteers have been working together over the past month to help build these homes — making this project possible.
Nathan and Jessica Thomas will be moving into one of the homes with their children. Nathan, a military veteran, needed a home that is ADA accessible. The Thomases never thought owning a home would be possible.
"There's a light at the end of the tunnel for us," Jessica said. "We have two young kids and owning a home has been a dream our entire marriage. Thank you to all the volunteers for choosing to use their valuable time this way."
The two homes are expected to be ready this winter. Kelsey McCarthy, a single mother with three children, will be moving into the second home.
"Without this program, I would never be able to purchase a house, especially right now," Kelsey McCarthy said. "This is a blessing and I love seeing everyone come out for me and my family."
Habitat for Humanity brings people together to build homes, communities, and hope by helping families build and improve places to call home. They offer qualified homebuyers, earning below 80% of the area median income, to work alongside volunteers to build their homes and pay an affordable mortgage.
"The partnership with our area credit unions highlights how affordable housing plays a critical role in strong and stable communities," said Michelle Girardot, Habitat for Humanity-Spokane CEO. "By these volunteers lifting their hearts and hammers, two families will open the doors to a future of economic mobility and stability."
The cooperative effort among local credit unions honors International Credit Union Day. For seven years, local credit union volunteers have worked side by side on community projects, united in a desire to show up and give back. Debie Keesee, president and CEO of Spokane Media Federal Credit Union, helped organize this year's project as a member of the International Credit Union Day committee.
"The chance to do a project that involves up to 600 volunteer opportunities really drives home the credit union philosophy of 'People Helping People'," said Keesee. "All 19 credit unions coming together cooperatively enables two deserving families to meet Habitat for Humanity's vision that everyone needs a decent place to live."
This year's participating credit unions include: Alaska USA Credit Union , Avista Credit Union, BECU, Canopy Credit Union, Cheney Federal Credit Union, Gesa Credit Union, Horizon Credit Union, Idaho Central Credit Union, Numerica Credit Union, PrimeSource Credit Union, Progressions Credit Union, Responders Emergency Services Credit Union, Safeway Employees Federal Credit Union, Spokane City Credit Union, Spokane Firefighters Credit Union, Spokane Media Federal Credit Union, STCU and WSECU.
Posted in Top Headlines, Washington.